We're Getting Mutants in the MCU - The Loop
Play Sound
This article is missing some information.
You can help by adopting it and adding the missing information.
Missing Information: Alicization Arc chronology
This article is open for adoption.
Alicia Rue (アリシャ・ルー, Arisha Rū?) is a supporting character in the Fairy Dance Arc and a reoccurring character throughout the Sword Art Online series. She is the Lord of the Cait Sith race in «ALfheim Online» (ALO). She was elected to the position of leader by popular vote. She formed an alliance with the Sylphs to finish the «Guardians of the World Tree».
Appearance
[
]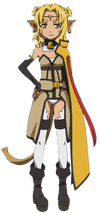 Alicia Rue has a petite figure, wavy, blonde hair surrounding her triangular cat ears. She wears a one-piece armour that exposes her delicately-tanned skin.[2] Claw weapons hang from the sides of her waist, while a colourful stripe near her hips emphasises her tail.[2] She also wears a bell collar on her neck and a cape on the left arm with a red stripe through it near the front.[3]
Chronology
[
]
During the Cait Sith meeting with the Sylphs at the Butterfly Valley, the negotiations were interrupted by Salamanders led by General Eugene. Just before they could attack, Kirito entered the stage and helped prevent a battle by bluffing about a Spriggan-Undine alliance and defeating Eugene in battle. After the Salamanders had left the area, Alicia complied with Sakuya's request for a Moonlight Mirror spell to communicate with Sigurd and banish him for his part in the ambush. Once Sakuya was done with the conversation, Alicia and Sakuya enquired about Kirito. Having learnt that he was not working for anyone, Alicia, as well as Sakuya, attempted to seduce Kirito into working for them. Though Kirito declined both offers by saying that he had to go to the World Tree. Before Alicia and Sakuya took their leave, they received a large sum of money from Kirito to quicken the preparations for the next attempt at clearing the Grand Quest.
The next day, Alicia and the Cait Sith dragoons, along with Sylph forces, aided Kirito's ascension of the World Tree after using the collected funds to purchase armor of at least Ancient grade for all of her warriors. After Kirito managed to get through to the top of the tree, she withdrew her forces from the area.
After the acquisition of ALO by Ymir and the release of a patch introducing New Aincrad, Alicia was seen with Sakuya and a few Cait Sith and Sylph warriors flying towards the floating castle.
This section is missing some information.
You can help by adopting it and adding the missing information.
This section is open for adoption.
Some time after the start of 2026, Alicia and Sakuya invited Leafa, Lisbeth, Lux, Silica, and Sinon to relax with them in Swilvane over some tea and sweets. During their conversation, the Lord wondered why Lux had not participated in the quest for Excalibur and became interested in learning the latter had been absent due to her embarrassing first meeting with Kirito. When Sakuya suddenly received another report of player killer activity in Sylph territory, Alicia became concerned and listened as Sakuya informed the other girls of the incidents.
A few days later, Alica met Leafa, Lisbeth, and Silica in town, accompanied by Sinon as her bodyguard. The Cait Sith Lord explained that the partially effective attack on Sakuya had made the other leaders of the races apprehensive, and was inspiring more players to engage in player killing. Thus, Alicia was planning to hold a strategy meeting with the other Fairy Lords, starting with their allies, to discuss how to handle the bandits. When the bells began ringing, the Cait Sith leader left, promising to notify the girls of any new details.
Alicia took part in a barbecue hosted at Kirito and Asuna's Forest House. Additionally, she was one of over 1,000 ALO players present during Yuuki's final moments of life.
This section is missing some information.
You can help by adopting it and adding the missing information.
This section is open for adoption.
Relationships
[
]
Sakuya
[
]
Alicia appears to be on friendly terms with Sakuya, as they appear to be quite familiar with each other regardless of their standing in the society of the game. 
Kirito
[
]
Alicia appears to have gained an interest in Kirito when he appeared during the alliance meeting to stop the Salamander Brigade from killing the leaders of the factions. She had attempted to seduce him and take him into the Cait Sith as a Mercenary. 
They appear to know each other in game fairly well, as they seem somewhat familiar with each other. This may be due to Leafa's friendship with Sakuya. 
Skills
[
]
ALfheim Online
[
]
Alicia has been training in the use of darkness-attribute magic.
«Moonlight Mirror»

- A darkness-attribute spell which allows long distance communication. Cannot be used for long without moonlight.
Gallery
[
]
References
[
]
[

]