The Audiovisual Bidirectional Communication Probe (視聴覚双方向通信プローブ, Shichōkaku Sōhōkō Tsūshin Purōbu?) is a piece of electronic machinery created by Kirigaya Kazuto (Kirito) that serves as a communication device to allow Yui to interact with the real world. Under the request of Yuuki Asuna, it was temporarily used by Konno Yuuki to allow her to attend school.
Functioning
Edit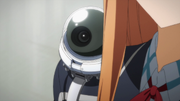 The probe is a shoulder-mounted camera that is connected to a cellphone to make use of the wireless internet and connect to a virtual space in which Yui and Yuuki were.
Chronology
Edit
On December 28, 2025, after completing the The Holy Sword of the Ice Palace quest, Kazuto brought the equipment for the probe to the Dicey Cafe and had the cameras installed in the four corners of the shop. After connecting the cameras to his notebook computer, he linked the computer to the one in his house, allowing Yui to see and hear everything within the interior of the cafe.
On January 11, 2026, Kazuto attempted to calibrate and test the device on the roof of the SAO Survivor School. As Yui remarked that her vision was still blurry, Kazuto suspected that the auto-focus was not working properly.
The next day on January 12, as Asuna had thought of using the probe to allow Yuuki to attend school, Kazuto installed the probe on Asuna's shoulder and linked the device to Yuuki's Medicuboid. Yuuki was able to communicate with teachers and students through the probe, including reading out a passage to the class.
Community content is available under
CC-BY-SA
unless otherwise noted.