The Sandman Will Keep You Awake - The Loop
Play Sound
| | |
| --- | --- |
| | Spoiler Alert: This article or section contains details about plotlines not covered in the anime. Do not proceed unless you wish to be spoiled. |
This article is missing some information.
You can help by adopting it and adding the missing information.
Missing Information: Alicization Arc chronology
This article is open for adoption.
General Eugene (ユージン, Yūjin?) is a supporting character in the Fairy Dance Arc and a reoccurring character throughout the Sword Art Online series. He is the head of the Salamander armed forces and later the New Aincrad clearing army. He was considered the strongest player in ALfheim Online, until he was defeated by Kirito in a one-on-one duel during the conference of the Cait Sith and Sylph representatives.
Appearance
[
]
Eugene is a tall and well-built[2] Salamander with bristling flame-like,[3] purplish-red[2] hair that framed a face reminiscent of a dark-skinned bird of prey.[3] His strong body is covered in ultra-rare Blood Armour and he wields the Demonic Sword Gram, the second most powerful sword in the game, in battle.[3]
Personality
[
]
During Eugene's duel with Kirito it was revealed that Eugene is interested in fighting strong opponents, as, after Kirito withstood thirty seconds in battle with him, Eugene claimed that he changed the plan to have their duel changed to a deathmatch as he really wanted to cut Kirito down.
Background
[
]
Eugene is Lord Mortimer's brother in-game and is presumed to be in real life as well.[3]
Chronology
[
]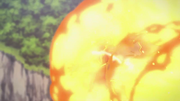 General Eugene intended to assault high-ranking representatives of the Cait Sith and Sylphs at their alliance conference, but Kirito and Leafa interrupted the attack. As Kirito insisted on being a representative of the Spriggan-Undine alliance, Eugene challenged the Spriggan to a one-on-one duel. At first Eugene had the advantage due to the Ethereal Shift ability of his sword, but Eugene was eventually defeated when Kirito began to use a second sword, countering the special ability of Gram. After the duel, Eugene was revived by Sakuya and agreed to withdraw his forces.
When New Aincrad was released, Eugene became the head of the Aincrad clearing force.[citation needed] Kirito planned to test his new legendary weapon, the Holy Sword Excalibur against him on New Years, but the outcome was never revealed.[4]
At some point, he compiled one of the strongest Original Sword Skills, the 8-hit Volcanic Blazer. One day, he visited Kirito and Asuna's home, coinciding with Sakuya's visit. The entire visit was noted to have been very tense.[5]
Eugene attended the barbecue at Kirito and Asuna's home and, like the other Lords, attempted to invite Yuuki and the others to join their side, but their invitations were refused. Additionally, he was one of over 1,000 ALO players present during Yuuki's final moments of life.
This Section is missing some information.
You can help by adopting it and adding the missing information.
This Section is open for adoption.
Gallery
[
]
References
[
]
[

]