The name of this character is alternatively translated as Xiahou Dun (Yen Press).
Kakouton (夏侯惇, Kakouton?) is a minor character in the Phantom Bullet Arc. He is a veteran Gun Gale Online player with amazing skill[2] and values weapons with accuracy.[3] He was also one of the thirty competitors in the main portion of the 2nd and 3rd Bullet of Bullets tournaments.[2]
Appearance
Edit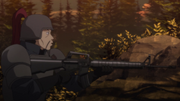 Kakouton has the appearance of an ancient Chinese general to match his name. He has a stern face with a beard and a sturdy chin.[2] He also wears a helmet with a red[4] fluffy tassel on the crown, which he opens to use an aim correcting eyepiece on his right eye (his left eye in the anime),[2] and wears general warrior-type armour.[3] The only piece of his equipment that does not quite suit the image of an ancient Chinese general is his weapon, the «Norinco CQ» assault rifle,[2] but due being Chinese-made,[5] it still fits the Chinese theme.
Chronology
Edit
On December 14, 2025, shortly after 20:45, Kakouton spotted Kirito and Sinon talking to each other. While they were distracted, Kakouton attempted to ambush them, but his entire magazine worth of bullets were deflected by Kirito's Kagemitsu G4. After recovering from his temporary shock due to the unexpected turn of events, Kakouton hid in the shadows behind a rock. Upon reloading, he continued firing wildly at Kirito again, but all of his shots were again deflected. After the second barrage, Kakouton was killed by a single shot from Sinon's PGM Ultima Ratio Hecate II.
Known Equipment
Edit
Gun Gale Online (GGO)
Edit
| Name | Type | Acquisition | Notes |
| --- | --- | --- | --- |
| «Norinco CQ» | Assault Rifle | | |
References
Edit
Community content is available under
CC-BY-SA
unless otherwise noted.