| | |
| --- | --- |
| | Spoiler Alert: This article or section contains details about plotlines not covered in the anime. Do not proceed unless you wish to be spoiled. |
This article is missing some information.
You can help by adopting it and adding the missing information.
Missing Information: Chronology
This article is open for adoption.
Kanamoto Atsushi (金本 敦, Kanamoto Atsushi?), known as Johnny Black (ジョニー・ブラック, Jonī Burakku?) in «Sword Art Online» (SAO), is a minor antagonist in the Aincrad Arc, Phantom Bullet Arc, and Alicization Arc. He was one of the 10,000 players who were trapped in Sword Art Online, where he was a member of the infamous red guild, «Laughing Coffin». In the game, he was partnered with Red-Eyed XaXa and well known for using poisons in battles.[2] A year after Sword Art Online was cleared, Atsushi was invited to help with the Death Gun plot by his former Laughing Coffin partner. At the end of the incident, Atsushi managed to escape arrest with a spare dose of a dangerous drug, succinylcholine. Atsushi resurfaced half a year later, when he assaulted Kirigaya Kazuto, while he was accompanying Yuuki Asuna home, and injected him with a lethal dose of the drug.
Appearance
[
]
Real World/Sword Art Online
[
]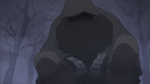 In Sword Art Online, Johnny wore tight-fitting black leather armor, thin black pants, black leather studded boots, and a black mask resembling a sack with holes cut for eyes.[3] Like most of the Laughing Coffin, he wore a dark colored hooded cloak and a mask.[4] His hands were armored, and he also appeared to be very thin.[4]
In the real world, Atsushi has an uneven tangle of long hair, thin cheeks covered by a stubby beard, and silver earrings on his ears. He wears a thick silver necklace, a discolored black T-shirt with leather pants of the same color and high laced boots, giving off a shabby overall impression.[5]
Personality
[
]
Johnny Black is a sadistic, cold-blooded killer who likes to have fun with his victims before killing them. For example, when he, XaXa, and PoH had captured Schmitt, Caynz, and Yolko on the Hill of the Cross, he suggested having a fight-to-the-death game among their captives, with the promise of freedom as a reward to the victor of the game. However, PoH revealed that he had killed the winner of such a game the last time anyway.
Chronology
[
]
In April 2024, Johnny, along with PoH and XaXa, was hired by Grimlock to assassinate Schmitt, Yolko, and Caynz to prevent anyone from learning the truth behind the murder of Griselda, the leader of the Golden Apple guild. On April 23, while Schmitt was being confronted by Caynz and Yolko at the Hill of the Cross, the dagger user stealthily approached an unaware Schmitt and stabbed him with a knife dipped in high-level poison, thus paralysing the man. Cheering over disabling his target as XaXa held Yolko and Caynz at swordpoint, Johnny excitedly proposed forcing their targets to kill each other for survival upon PoH wondering how they could derive amusement from their prey but complained when PoH reminded him that they killed the survivor the last time they played the game. Before any of the Laughing Coffin members could proceed with their assignment, though, they were interrupted by the arrival of Kirito. As the Black Swordsman was prepared to stall for time until reinforcements from the clearers could arrive, Johnny and his associates withdrew from the area.
August, 2024
[
]
On a certain night of August that year, the Clearers launched a crusade to vanquish the red guild and Johnny was captured along with eleven other «Laughing Coffin» members.[6]
Sometime between late November 2025 and early December 2025,[7] Atsushi was invited by Shinkawa Shouichi (XaXa) to assist him and his brother with their plan to kill prominent Gun Gale Online (GGO) players in real life in a way that it would appear their targets had been killed from within the game. Shortly before 20:45 on December 14, Atsushi infiltrated Pale Rider's home and injected him with a lethal dose of suxamethonium chloride (succinylcholine) at the same time as Shouichi's GGO avatar Sterben shot Pale Rider with his pistol in-game during the Bullet of Bullets (BoB) tournament. Atsushi repeated the feat with Garrett by 21:45; however, as the Shinkawa brothers were caught and arrested around 22:45, Atsushi escaped with one last syringe of succinylcholine before the police arrived at his apartment two hours later.
Half a year after the «Death Gun» incident, Atsushi followed Kazuto and Asuna on their way to Asuna's house, until Kazuto noticed that he was following them. The man confronted Kazuto, injecting him with a syringe of succinylcholine. Although Atsushi himself was injured during the encounter and later arrested by the police[citation needed], his succinylcholine injection caused Kazuto to enter a state of cardiac arrest for several minutes, resulting in brain damage that led to a coma.
Gallery
[
]
References
[
]
↑ 4.0 4.1 Episode 06
↑

Volume 9, Interlude I

↑ According to Volume 6, Chapter 16, Atsushi was approached by the Shinkawa brothers for the third Bullet of Bullets after Shouichi had already killed Usujio Tarako. This murder occurred on November 25, 2025 according to Volume 5, Chapter 1, while the tournament itself took place on December 14, 2025 according to Volume 6, Chapter 7.
[

]