The Sandman Will Keep You Awake - The Loop
Play Sound
Keita (ケイタ, Keita?) was a supporting character in the Aincrad Arc. He was one of the 10,000 players who were trapped in «Sword Art Online» and the leader of a small guild named «Moonlit Black Cats». Keita committed suicide after learning that all of his guildmates aside from Kirito had met their demise.
Appearance
[
]
Keita had short brown hair and brown eyes and was dressed in light, brown clothing with a metal chestguard, metal shoulder armour on both his shoulders, metal bracers on both of his arms.[4] He also wore black, fingerless gloves that extended to his forearm and dark boots.[4] Keita's trousers are of a paler shade of brown than his top.[4] Keita's weapon of choice was a two-handed staff.[5]
Personality
[
]
Keita was a person who put the welfare of his guild above everything else and was described as a hopeful and forward type person, whose dreams were to be on the frontlines of SAO, helping to clear the game.[5] However, Keita gave into despair after learning of the deaths of his guildmates.
Chronology
[
]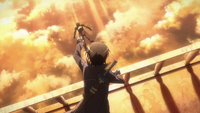 On April 8, 2023, Keita and his guild were struggling with a group of monsters, when they encountered Kirito, whose assistance helped the guild leave the dungeon safely. Thankful, Keita recruited Kirito to their guild.
On June 22, 2023, Keita went to purchase a small house for the guild. After successfully acquiring a house, Keita returned to the inn the guild had been using to wait for the other members to return. However, when Kirito returned alone, Keita learnt about the deaths of the other guild members. Devastated, Keita committed suicide by jumping off the edge of Aincrad.
Image Gallery
[
]
See: Keita/Image Gallery
References
[
]
[

]