The name of this player is incorrectly translated as Corvatz (Crunchyroll, Yen Press).
Kobatz (コーバッツ, Kōbattsu?) was one of the 10,000 players who were trapped in Sword Art Online and was a lieutenant-colonel in the Aincrad Liberation Force (ALF).
Appearance
[
]
Kobatz was a tall man who seems to be in his late thirties,[1] has a sharp face,[1] very short[1] dark[3] hair and a pair of sharp eyes below his thick eyebrows.[1] As a leader of the ALF platoon, he wears a set of very high-quality, heavy armor with a crest in the shape of Aincrad engraved on it,[1] complete with a helmet and a red cape to distinguish himself from his men.[3] In battle, he wields a one-handed straight sword and a heavy shield.[3]
Personality
[
]
Kobatz was a merciless and stubborn person, driving his men to their limits and forcing them to fight a difficult and pointless battle, even when they were exhausted and without proper preparations. He was also an arrogant and short-sighted man who refused to retreat from battle, claiming that the word "retreat" did not exist for The Army, even though the lives of his men were in danger and retreating would have allowed them to regroup and get reinforcements for the fight.
Chronology
[
]
Due to the accumulating dissatisfaction with Kibaou's actions among the players, Kibaou ordered Kobatz and nine other highest-leveled players among the Aincrad Liberation Force to defeat the latest Floor Boss.[4] En route to the 74th Floor Labyrinth, they unknowingly passed by Kirito and Asuna in a forest, as the two were hiding behind some trees.[5]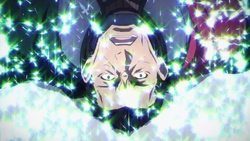 Kobatz later encountered Kirito, Asuna and the Fuurinkazan in the Labyrinth, demanding map data from them, thinking that he had the right to have it for free as a member of the Aincrad Liberation Force, even though mapping was a difficult task. After receiving the map of the Labyrinth up to the Boss Room from Kirito, he ordered his men to move out and heads towards the Boss Room. During the boss fight, Kobatz was killed by The Gleam Eyes due to his party entering the Boss Room without appropriate preparations and Kobatz refusing to let his men retreat from the battle.
Gallery
[
]
References
[
]
[

]