Leviathan (レヴァイアサン, Revaiasan?), officially titled as Leviathan the Sea Lord (海の王リヴァイアサン, Umi no Ō Revaiasan or Revaiasan za Shī Rōdo?), is one of the Non-Player Characters that appear in the «Deep Sea Plunderers» quest in ALfheim Online. He is shown to have eight hit point (HP) bars.
Appearance
[
]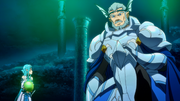 Leviathan is a giant man several times the size of a fairy with short, gray hair, a short gray beard that connects with his hair, a gray mustache and thick, gray eyebrows. He also has several wrinkles on his serious face. Leviathan is clad in silver-colour armour with a large blue cape. He has a blue, tiara-shape, seaweed-like crown with fins sticking out of its side and a blue gem in its centre. Leviathan is armed with a giant silver-colour trident.
Personality
[
]
Leviathan is a kind of man who has a sense of moderation, as he claims that he is satisfied with being just a king of the sea, despite having to follow the orders of the Aesir.
Chronology
[
]
Leviathan appeared at the end of the «Deep Sea Plunderers» quest after the quest's boss, Kraken the Abyss Lord, nearly wiped out Kirito's party to steal The Child's Egg. Leviathan stopped Kraken by throwing his trident in front of the creature and then warning him that if he wanted to get the egg, he would have to fight him. After Kraken retreated, Leviathan retrieved the egg from Asuna, saying that he would have to hide it again. He then informed the fairies that he would help them return to their world and summoned a whale to transport them back to Alfheim.
Gallery
[
]
Trivia
[
]
References
[
]
[

]