The Sandman Will Keep You Awake - The Loop
Play Sound
| | |
| --- | --- |
| | Spoiler Alert: This article or section contains details about plotlines not covered in the anime. Do not proceed unless you wish to be spoiled. |
Pina (ピナ, Pina?) is Silica's «Feathered Little Dragon» and the first known monster to be tamed in Sword Art Online. It understands Silica's commands and will protect her in any way it can, as it is her «Tamed Monster». It is also present in ALfheim Online as her Cait Sith familiar.
Appearance
[
]
Pina is a «Feathered Little Dragon» with its blue body covered in soft, pale blue feathers and two long feathers instead of a tail.
Chronology
[
]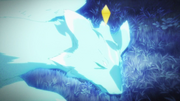 Pina became Silica's tamed monster after Silica fed Pina some peanuts she had bought. After Silica got into an argument with her party member Rosalia, she left the party without even taking recovery items with her. She and Pina got lost in the Forest of Wandering, where, after hours of wandering, they were surrounded by Drunk Apes.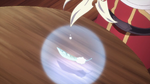 Pina took a deadly blow meant for Silica and perished. Silica and her temporary companion Kirito, went to the «Hill of Memories» on the 47th Floor to obtain the rare pet revival item, the «Pneuma Flower». After they returned to town with the flower, Silica used it and successfully revived Pina.
Pina was included as converted data from SAO. When Silica joined a party to obtain the legendary Holy Sword Excalibur from the underground dungeon, Pina is included as a team member to help obtain the legendary sword.
Abilities
[
]
Healing - Pina is shown to be capable of healing a small amount of health.[2]
Yui has said that Pina possesses a complex mind structure and thus Pina is shown to possess a greater amount of knowledge and self-awareness than other tamed familiars, allowing it to think for itself at times. [3]
Trivia
[
]
Pina is named after Keiko's (Silica) Munchkin cat in the real world.[5]
Keiko's cat, Pina, has never made an appearance in neither the anime, nor the light novel, and Reki has yet to describe its appearance. However, Pina does make an appearance in both The Final Promise and Girls Ops mangas and Hollow Fragment video game adaption, though in all three stories, Pina takes on a different appearance, likely due to the interpretation of different artists.
Gallery
[
]
See: Pina/Image Gallery
References
[
]
[

]