| | |
| --- | --- |
| | Spoiler Alert: This article or section contains details about plotlines not covered in the anime. Do not proceed unless you wish to be spoiled. |
Ruru (ルル, Ruru?) is a Level 1 NPC in the village of Pani on the 56th Floor. She accompanies the clearers through much of the ordeal to defeat the Geocrawler boss, and generally shows concern for most of the players.
Ruru's Lullaby
Edit
After Asuna was defeated in a duel with Kirito, Asuna triggered Ruru's special conversation pattern by staying by herself outside of a house within the village for a certain period of time late at night. As part of the special conversation pattern, Ruru sings a lullaby to Asuna. It turned out that Ruru's lullaby was the secret to defeating the Geocrawler. By singing Ruru's Lullaby, the Geocrawler instantly fell asleep allowing the players to defeat it.
The southern travelling musician
With a lute in his hand

With a brush of silver threads
La, La-la, sleep awaits
Village chief with his long beard
Weapon shop uncle of greed

Kid's running through the plaza
A black cat up the roof
A robin singing atop a twig
Even the serpent, armored in iron
Da, da-da, da, da-da
Everyone's asleep
Minami kara kita tabigeinin
Ryūto katate no tabigeinin

Gin no i to o hito nade sureba
Po ro n porori n nemuri ni izanau
Nagai o hi-ge no sonchō-san mo
Gametsui buki-ya no ojisan mo

Hiroba de kakeru kodomo-ra mo
Yane ni nobo-tta kuro neko mo
Oeda de utau koma tori mo
Tetsu no yoroi no orochi mo
Toron Tororin mina nemuru
南からきた旅芸人
リュート片手の旅芸人

銀のいとをひと撫ですれば
ぽろんぽろりん眠りに誘う
長いおひげの村長さんも
がめつい武器屋のおじさんも

広場で駆ける子供らも
屋根に登った黒猫も
小枝で唄うこま鳥も
鉄の鎧の大蛇も
とろんとろりん皆眠る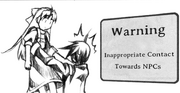 During the celebration of the successful defeat of the boss, Kirito, in excitement, lifted Ruru and triggered the NPC's harassment warning.
Community content is available under
CC-BY-SA
unless otherwise noted.