We're Getting Mutants in the MCU - The Loop
Play Sound
The SAO Survivor School (《SAO》帰還者学校, "SAO" Kikan-sha Gakkō?, lit. SAO Returnee School) is a special school established in Nishitokyo, Tokyo for the survivors of Sword Art Online who were still minors in terms of age. It is classified as a National Vocational School under the School Education Law.[1]
Description
[
]
The school consists of three 3-story school buildings with teal roofs[2] and a link bridge between them[3], an open-air swimming pool, and a large, open sports field[2]. The school building is made out of bare concrete and gives off a cold appearance, but the excellent campus makes it hard to believe that the school was a reused building left vacant by overall consolidation.[4] The three school buildings frame a partially open inner courtyard that leads to a small round garden.[2][4] Plain wooden benches are placed along the edge of the garden, surrounded by flowers.[4]
Background
[
]
The school building was originally a metropolitan high school that had been abandoned due to unification and reorganization a year before the events of the Fairy Dance arc and was awaiting demolition.[1] After the collapse of Sword Art Online, the school building was urgently transformed into a temporary school within two months of the project's announcement.[5] The school specialised in teaching the middle and high school students that had returned from SAO and had fallen behind in their studies due to being in a comatose state for two years.[5] Unlike most schools in Japan, the SAO survivors school does not have entrance exams nor school fees and all students who attend the school are eligible to take the entrance examinations for university after graduating.[6][5][1] Such extremely good treatment had received criticism for a while.[5]
The school was likely created to manage most SAO survivors in one place, as they were worried how the two years trapped in a brutal death game had affected their mental health. Those who attend the school were obligated to participate in a weekly counseling session which involved answering questions that were blatant tests for anti-social behaviour and, based on the answers, the students might be sent to hospital for diagnosis or even put on medication.[5] However, students are not forced to study at this school, though they would have to spend a year cramming to prepare for a regular high school's entrance exams.[6]
Curriculum
[
]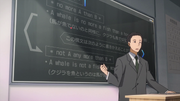 The teaching staff at the school mostly consists of re-employed teachers, who had retired from old age, but volunteered to serve part-time.[5][1] All the teachers candidly faced their students, thus there was no need for students to intentionally hide their past.[5]
An EL panel is used instead of a regular blackboard and students write on a tablet PC, instead of using notebooks while homework to the students is sent over wireless LAN.[4]
Uniform
[
]
All students at this school have to wear a blue, blazer-type uniform.[3] The male version of the uniform consists of a dark blue jacket with the school's insignia on the left side, a white, long-sleeve shirt with a collar that has two light blue lines forming an X on each side and the same insignia of the school on its left side as the jacket, a red tie and dark blue trousers.[7] The female version of the uniform differs from the male version in that females wear a dark blue skirt with knee-length or longer socks instead of trousers, a red ribbon instead of a tie and wear a cropped version of the jacket.[7] During summer, the students usually go to school without their jackets and wear short-sleeve version shirts.
Known Students
[
]
Image
Name
SAO Name
Notes
Ayano Keiko
Silica
Hosaka Tomo
Argo
Transfer student (September 2026)[8]
Third-year student (2026)[8]

Kamura Shikimi

N/A
Transfer student (September 2026)[8]
Third-year student[9] (2026)
Kashiwazaka Hiyori
Lux
Kirigaya Kazuto
Kirito
Second-year student (2026)[8]
Konno Yuuki
N/A
Guest student
Kouta[10]
Shinozaki Rika
Lisbeth
Third-year student (2026)[8]
Yuuki Asuna
Asuna
Third-year student (2026)[8]
Chronology
[
]
The school began official operation in April, 2025 with the start of the new school year in Japan began. A month later, Kazuto and Asuna met up in the school's park for lunch where they talked about what had happened since January that year. In the meantime, Rika and Keiko, who had been peeping on them from the cafeteria's window, talked about how they should not have agreed to the one month truce of letting Asuna and Kazuto enjoy themselves without either Keiko or Rika interfering. They then start talking about the offline meeting that they were planning at the Dicey Cafe that day.
On the day the Ring of Angel's Whisper quest was added to ALfheim Online, Rika and Keiko met up at the school's cafe and made plans to complete the quest.
On January 12, 2026, the day after Asuna found out about Yuuki's condition and her desire to attend school, she had Kazuto to set up his Bidirectional Communication Probe on Asuna's shoulder for Yuuki to use so that she could attend school with her.
Gallery
[
]
Trivia
[
]
The full name of the school is «Temporary School for Middle and High School Students who have returned from SAO» (

SAOから帰還した中高生向けの臨時学校

,

SAO kara kikanshita chūkōsei-muke no rinji gakkō

?

).[11]
Kazuto has said that the school's bell chime is similar to that of the chapel in the Town of Beginnings on the 1st Floor of Aincrad.
Students of the school are permitted to commute by motorcycle, probably due to its tolerance and due to how far apart its students live, as this situation is unheard of within Tokyo Metro.[12]
The school can be accessed by traveling via Seibu Line or taking a Kichijoji bus[13], and is 25km, 30-40 minutes away from Kirigaya's home at Kawagoe.[14]
In the web version, Ayano Keiko and Shinozaki Rika lived in a hostel of the school.[15]
Notes
[
]
References
[
]