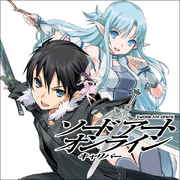 Sword Art Online - Calibur (ソードアート・オンライン キャリバー, Sōdo Āto Onrain Kyaribā?) is a manga adaption of the Sword Art Online light novel series by Kawahara Reki. This adaption covers the Calibur story of the original series, which is composed of part of the Volume 8 of the light novel. The manga is illustrated by Kiya Shii and was published as part of the monthly Dengeki G's Comic magazine. It continues the story of the Phantom Bullet manga, while the events in the Mother's Rosario manga take place after this manga, although the Calibur manga began serialization later than Mother's Rosario.
Vol.
Ch.
Title
Magazine Publication Date
Tankoubon
1
Chapter 1
July 30, 2014
2
Chapter 2
August 30, 2014
3
Chapter 3
September 30, 2014
4
Chapter 4
October 30, 2014
5
Chapter 5
November 29, 2014
6
Chapter 6
December 27, 2014
7
Chapter 7
March 30, 2015
8
Chapter 8
April 30, 2015
9
Chapter 9
May 30, 2015
10
Final Chapter
June 30, 2015
According to the Japanese Wikipedia article on Dengeki G's Festival Comic, an outpost edition of this manga, which is overall the same, but has a different ending from chapter 1 of this manga, as serialized in Dengeki G's Comic, was published on Dengeki Festival Comic Volume 36, which was released on August 26, 2014.
Community content is available under
CC-BY-SA
unless otherwise noted.