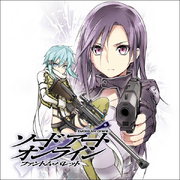 Sword Art Online - Phantom Bullet (ソードアート・オンライン ファントム・バレット, Sōdo Āto Onrain Fantomu Baretto?) is a manga adaption of the Sword Art Online light novel series by Kawahara Reki. This adaption covers the Phantom Bullet Arc of the original series, which is composed of Volume 5 and Volume 6 of the light novel. The ongoing manga is illustrated by Yamada Kotaro and published on Comic Walker, a manga serialization site owned by Kadokawa, the parent corporation of Dengeki Bunko, with an indefinite release interval. It continues the story of the Fairy Dance manga, while the events in the Calibur manga take place after it.
Vol.
Ch.
Title
Initially Released In
Initial Release Date
Comic Walker Release Date
1
1
Stage.001
Dengeki Bunko Magazine Kawahara Reki Booklet 2014
April 10, 2014
May 13, 2014
2
Stage.002
Comic Walker
July 12, 2014
Stage.003
3
Stage.004
September 2, 2014
2
4
Stage.005
November 15, 2014
5
Stage.006
February 20, 2015
6
Stage.007
May 26, 2015
7
Stage.008
August 10, 2015
3
8
Stage.009
October 13, 2015
9
Stage.010
January 20, 2016
10
Stage.011
March 2, 2016
11
Stage.012
July 27, 2016
The official Comic Walker site originally stated the manga's upcoming release time as indefinite. However, basing on the past release records of the manga on the site: chapter 1 was released on May 13, 2014, while chapter 2 was released on July 12, 2014, and the fact that its magazine affiliation is listed as Dengeki Bunko Magazine on the site[† 1], it is likely that the manga will follow a release cycle of roughly a chapter every two months.
↑

Despite that its future chapter(s) would not appear in it
Community content is available under
CC-BY-SA
unless otherwise noted.