We're Getting Mutants in the MCU - The Loop
Play Sound
The Sword Art Online anime is an anime adaptation of the original Sword Art Online light novel series, written by Kawahara Reki. The anime is produced by A-1 Pictures, with the direction of Itou Tomohiko (season 1, Extra Edition, season 2, Ordinal Scale) and Ono Manabe (season 3). The first season began airing on July 7, 2012 in Japan, while an English dub version began airing on July 27, 2013. A second season, titled Sword Art Online II, started airing on July 5, 2014.[1] An original Sword Art Online movie, titled Sword Art Online The Movie -Ordinal Scale-, was released on February 18, 2017 in Japan, as well as various other countries. A third season, titled Sword Art Online Alicization, started airing on October 6, 2018.[2] An anime for the Sword Art Online Alternative "Gun Gale Online" spin-off began airing on April 7, 2018 in Japan,[3] while an English dub version was released on February 1, 2019.[4] Two anime movies have been announced for the Sword Art Online Progressive spin-off series. Sword Art Online the Movie -Progressive- Aria of the Starless Night is a loose movie reboot of the eponymous 1st Floor story that was released on October 30, 2021 in Japan. A second movie, Sword Art Online the Movie -Progressive- Scherzo of Deep Night, is an upcoming movie adaptation of the eponymous 5th Floor story that is slated for release in 2022.
Staff
[
]
Position
Season 1
Season 2
Season 3
Director
Ito Tomohiko
Ono Manabu
Music
Kajiura Yuki
Character Design
Adachi Shingo
Art Director
Nagashima Takayuki
Takeda Yusuke
Chief Animation Director
Adachi Shingo
Kawakami Tetsuya
Adachi Shingo
Yamashita Yū
Sound Director
Iwanami Yoshikazu
Director of Photography
Hirooka Takeshi
Mutsumi Usuda
Action Animation Director
Yanagi Ryuuta
Shikama Takahiro
Yanagi Ryuuta
Takeuchi Tetsuya
Art Setting
Taniuchi Yuuho
Shiozawa Yoshinori
Color design
Nakajima Kazuko
Effects
Konno Yasuyuki
Main Animator
Saito Atsushi
Matsumoto Kengo
Monster Design
Yanagi Ryuuta
Prop Design
Tsuchiya Yuta
Shikama Takahiro
Chiba Shigery
Tsuneki Shinobu
Ishimoto Takahiro
Takagi Harumi
Sub-Character Design
Kawakami Tetsuya
Yamashita Yuu
Guns Animation Director
N/A
Mori Satoshi
Aoki Yu
2D Works
Hirooka Takeshi
Companies
[
]
Animation Production: A-1 Pictures (main series), Studio 3Hz (AGGO)
Project Generalization: GENCO
Sound Production: Dax Production
Cast
[
]
Japanese Cast
[
]
Aincrad Arc
[
]
Fairy Dance Arc
[
]
Extra Edition
[
]
Phantom Bullet Arc
[
]
Calibur
[
]
Mother's Rosario
[
]
Ordinal Scale
[
]
Alternative "Gun Gale Online"
[
]
Koyanagi Ryoukan as Bold[9]
Majima Junji as David[9]
Murata Taishi as Jake[9]
Ichikawa Aoi as Kenta[9]
Mizunaka Masaaki as Lax[9]
Yamamoto Itaru as Summon[9]
M・A・O as Anna (Annaka Moe)[7]
Asai Ayaka as Eva (Nitobe Saki)[7]
Tanezaki Atsumi as Roza (Noguchi Shiori)[7]
Uchiyama Yumi as Sophie (Fujisawa Kana)[7]
Shiraishi Haruka as Tanya (Kusunoki Risa)[7]
Morinaga Chitose as Toma (Milana Sidorova)[7]
Maeda Hiroki as Alphon[10]
Nose Ikuji as Borno[10]
Nishitani Shuuichi as Clint[10]
Murakami Yuuya as Dominic[10]
Komatsu Mikako as

Clarence

[10]
Kouno Marika as Shirley (Kirishima Mai)[11]
Alicization
[
]
English Cast
[
]
This section is missing some information.
You can help by adopting it and adding the missing information.
Missing Information: citations needed
Page Adopted By: Mamue
Please contact this person before making any major (non-grammar, typo correction etc.) edits on this section.
Aincrad Arc
[
]
Bryce Papenbrook[28] as Kirito (Kirigaya Kazuto)
Cherami Leigh[28] as Asuna (Yuuki Asuna)
Stephanie Sheh[28] as Yui
Sarah Anne Williams[28] as Lisbeth (Shinozaki Rika)
Christine Marie Cabanos[28] as Silica (Ayano Keiko)
Kevin M. Connolly[citation needed] as Heathcliff
Mark Diraison[citation needed] as Kayaba Akihiko
Kirk Thornton[28] as Klein (Tsuboi Ryoutarou)
Patrick Seitz[28] as Agil (Andrew Gilbert Mills)
Sean Chiplock[citation needed] as Diavel
Xanthe Huynh[citation needed] as Sachi
Fairy Dance Arc
[
]
Cassandra Lee[28] as Leafa (Kirigaya Suguha)
Todd Haberkorn[28] as Oberon (Sugou Nobuyuki)
Keith Silverstein[citation needed] as Yuuki Shouzou
Caitlin Grass[citation needed] as Kirigaya Midori
Marianne Miller[citation needed] as Recon (Nagata Shinichi)
Keith Silverstein[citation needed] as Kagemune
Joshua Tomar[citation needed] as Eugene
Lauren Landa[citation needed] as Sakuya
Cristina Vee[citation needed] as Alicia Rue
Extra Edition
[
]
Matthew Mercer[citation needed] as Kikuoka Seijirou
Phantom Bullet Arc
[
]
Michelle Ruff[29] as Sinon (Asada Shino)
Grant Geroge[citation needed] as XeXeeD (Shigemura Tamotsu)
Chris Tergilafera[citation needed] as Yamikaze
Benjamin Diskin[citation needed] as Ginrou
Yōko Hikasa[30] as Endou
Johnny Yong Bosch[29] as Spiegel (Shinkawa Kyouji)
Benjamin Diskin[31] as Death Gun/Sterben
Calibur
[
]
Karen Strassmen[citation needed] as Urðr
Mela Lee[citation needed] as Freyja
John Synder[citation needed] as Thrym
Mother's Rosario
[
]
Erica Mendez[citation needed] as Yuuki (Konno Yuuki)
Johanna Luis[citation needed] as Erika (Yuuki Kyouko)
Erika Harlacher[citation needed] as Siune (An Si-eun)
Max Mittelman[citation needed] as Jun
Chris Cason[citation needed] as Tecchi
Erica Lindbeck[citation needed] as Nori
Zach Aguilar[citation needed] as Talken
Ordinal Scale
[
]
Ryan Bartley[32] as Yuna
Chris Patton[33] as Eiji (Nochizawa Eiji)
Taylor Henry[34] as Doctor Shigemura Tetsuhiro
Alternative "Gun Gale Online"
[
]
Alicization
[
]
Music
[
]
Aincrad Arc
[
]
Fairy Dance Arc
[
]
Extra Edition
[
]
Phantom Bullet Arc
[
]
Calibur/Mother's Rosario
[
]
Ordinal Scale
[
]
Alternative "Gun Gale Online"
[
]
Alicization Arc
[
]
Ending Theme 1:

Iris

by Aoi Eir[42]
Ending Theme 2:

forget-me-not

by ReoNa[43]
Opening Theme 3:

Resolution

by Tomatsu Haruka[44]
Ending Theme 3:

unlasting

by LiSA[45]
Opening Theme 4: ANIMA by ReoNa[citation needed]
Ending Theme 4:

I will...

by Aoi Eir[citation needed]
Character Songs
[
]
Soundtracks
[
]
Episode List
[
]
Season 1
[
]
Aincrad Arc
[
]
No.
Title
Original Airdate
English Dub Airdate[citation needed][† 1]
1
The World of Swords

[46]
Ken no Sekai (剣の世界)

July 7, 2012
July 27, 2013
Sword Art Online has been officially released as the first VRMMORPG. Kirito, a beta-tester of the game, returns to the world of Aincrad to meet a beginner named Klein to whom he teaches the basics. Later, as they try to log out, they find that they are trapped within the game. After being teleported back to the starting town, Kayaba Akihiko appears as the game master and tells them that he has purposely removed the log-out button with the intention of having them clear all 100 floors. As Akihiko leaves, he reveals the player's true identities through a mirror that he placed in their inventory. Kirito leaves the starting town with only the thought of survival in mind because he knows that the rest of the beta testers will dry out the good hunting grounds. Before leaving, Kirito asks Klein to follow him to which Klein declines, saying that he was going to wait for his friends in the starting city. By the end of the first month, 2,000 out of the initial 10,000 are dead with the first floor yet to be cleared.
2
Beater [46]
Bītā (ビーター)
July 14, 2012
August 3, 2013
By December 2, 2022, nearly a month after the beginning of the game, about two thousand players had died, yet not even the 1st Floor had been cleared. As the boss room was finally discovered, the first floor boss strategy meeting is held in Tolbana, organised by a player named Diavel. During the meeting, Diavel urged the players to form parties; however, as Kirito did not have any acquaintances in the meeting, he formed a party with a loner girl named Asuna. A player named Kibaou interrupted the meeting at that point, arguing that the beta testers in the meeting had to repay other players for abandoning them at the start of the game; however, a man named Agil revealed that beta testers had produced a strategy guide for all the players for free, thus allowing the meeting to resume peacefully. During the boss fight the next day, the battle flowed as planned under Diavel's command, until Diavel attempted to deal the finishing blow on the boss alone when it was gravely injured, when the boss suddenly changed its attack patterns differently than it had in the beta test, thus allowing it defeat an unprepared Diavel in a single blow. After Diavel's death, Kirito defeated the boss with Asuna and Agil's help; however, in the aftermath of the battle, he was confronted by Kibaou for being a beta tester, which created tension among the other players. To prevent the situation from spiraling into chaos, Kirito decided to act the role of a selfish beta tester to cause all the hatred for beta testers to be focused on himself, thus donning the title of Beater, before leaving to the 2nd Floor.
3
Red-Nosed Reindeer [46][† 2]
Akahana no Tonakai (赤鼻のトナカイ)
July 21, 2012
August 10, 2013

After four months inside the game, Kirito has reached well above level 40. After assisting a small group of players on a lower floor, Kirito is asked to join their guild, the Moonlit Black Cats. When asked about his level, Kirito lied and told them that he was around level 20. Kirito was told to train Sachi to use a one-handed sword. Eventually, Sachi confesses to Kirito that she is afraid of dying. Kirito promises her that he would never let her die. Sachi begins to sleep in Kirito's room because she felt safe. After days of leveling, the group had almost reached a level capable of fighting on the frontlines. On June 12, 2023 Keita, the guild leader, decides that it was time to buy a small house to act as the guild's headquarters. While he was gone, the remaining party members decided to go into a higher level dungeon to surprise Keita with new items when he comes back. While in the dungeons, the group stumbles upon a hidden room that contained a treasure chest. Not heeding Kirito's warnings, the group opens the chest and triggers a trap. Kirito watches as all of the members die and especially feels guilty for Sachi's death. After learning of the news, Keita commits suicide by jumping off the side of the town.

During Christmas, Argo the Rat reveals to Kirito a special quest that yielded an item that could revive the dead. Kirito heads off to face Nicholas The Renegade. He bumps into Klein and his guild and later the Holy Dragon Alliance. Klein tells Kirito to go face the boss while he held off the Holy Dragon Alliance. After defeating the boss, Kirito learns that the revival item only worked on a person within 10 seconds of their death. He gives the revival item to Klein and leaves to go sulk in his room. Suddenly, a recorder crystal shows up in his inventory. Upon activation, Sachi's voice tells Kirito to not blame himself for her death. She was glad that she had met him and that he had wanted to protect her. She then sings him "Rudolph the Red Nosed Reindeer" before telling him to live on.

4
The Black Swordsman [46]
Kuro no Kenshi (黒の剣士)
July 28, 2012
August 13, 2013 (DVD/BD)
August 17, 2013 (TV)
Kirito finds a beast tamer named Silica, who just lost her familiar, Pina, and decides to help her recover it. On the way to the Inn, he finds out that she's very famous, loved by some and hated by others. While explaining the procedure to recover Pina, he discovers someone eavesdropping on them. The next day he helped Silica gain some levels on their way to the Pneuma Flower needed to revive Pina. After they find the flower, they're ambushed by the Titan's Hand guild, who want the flower. After Kirito explains his motives, he is attacked by the members of the guild, but he overwhelms them with his high level and finally sends them to Prison. At the Inn, he talks with Silica and they agree to meet in the real world and Silica finally reincarnates Pina.
5
Murder in the Safe Zone [46]
Kennai Jiken (圏内事件)
August 4, 2012
August 13, 2013 (DVD/BD)
August 24, 2013 (TV)
Kirito is sleeping in the outskirts of a Town and Asuna arrives to wake him up, but Asuna falls asleep and Kirito watches for her. To thank him, she invites him to dinner, but they hear a scream, just to discover someone was killed inside the Safe Area. They start investigating and find various clues, but nothing seems to explain how that man was killed, so they talk to Agil. After Agil tells them that the sword was made by a player called Grimlock they talk to Yolko at a cafe, who tells them about her former guild the Golden Apple. They decide that they must also talk to another member of the guild, Schmitt, and they invite him to Yolko's room in an Inn. After a brief talk, Yolko loses her composure and near a window, she suddenly turns and falls with a dagger stabbed on her back. Kirito rushes to save her, but he only manages to see her disappear in polygons on the floor.
6
Illusionary Avenger [46]
Maboroshi no Fukushū-sha (幻の復讐者)
August 11, 2012
August 13, 2013 (DVD/BD)
September 7, 2013 (TV)
After Yolko falls from the window Kirito looks in the roof nearby and starts chasing a hooded player and tries to capture him, but the player teleports away. After dispatching Schmitt they have dinner, Asuna made Kirito drop his sandwich and when he sees it disappear figures out everything. He realized that Yolko and Caynz were alive and they were trying to trick Schimitt to make him confess what he did. They were ambushed by the Laughing Coffin top three but Kirito arrived just in time and save them. Later Asuna finds Grimlock and brings him to them to confess that he planned Griselda's murder. Schmitt and the others take Grimlock, leaving Kirito and Asuna alone, before leaving they see Griselda's ghost giving thanks to them.
7
The Temperature of the Heart [46]
Kokoro no Ondo (心の温度)
August 18, 2012
August 13, 2013 (DVD/BD)
September 14, 2013 (TV)
Looking for a sword that can rival his Elucidator, Kirito visits a shop run by Asuna's friend Lisbeth. During his visit he proves that Lisbeth's strongest sword is not strong enough by accidentally breaking it. After a little chat he and Lisbeth decide to look for a mysterious material that is said to be obtainable in a quest on floor 55. When they arrive Kirito confronts a White Dragon. However, Lisbeth is blown away so Kirito jumps to save her, with both of them falling into a pit. Unable to get out, where they spend the night there. The next morning Kirito finds the ingot they were looking for. When the dragon returns, Kirito takes Lisbeth and rides the Dragon to outside the pit. On Lisbeth's shop he gives the ingot to her and she makes a new sword called Dark Repulser. Before Lisbeth can express her feelings to Kirito, Asuna arrives and Lisbeth realizes that she is also in love with him. Lisbeth runs away to hide her feelings but Kirito finds her and comforts her promising that she'll be his exclusive blacksmith.
8
The Sword Dance of Black and White [46]
Kuro to Shiro no Kenbu (黒と白の剣舞)
August 25, 2012
September 17, 2013 (DVD/BD)
September 21, 2013 (TV)
Kirito gets a rare and very valuable ingredient, since he can't cook it he visits Agil and tries to sell it, during their conversation Asuna arrives, and tells them that she mastered the cooking skill. After Kirito shows her the rare ingredient they depart to Asuna's home, after eating and chatting Kirito leaves. The next day Kirito is waiting, and suddenly Asuna appears, followed by her bodyguard, Kuradeel who was watching outside her house. The bodyguard tries to take Asuna back, but when he's stopped by Kirito, decides to challenge him to a duel, however Kirito breaks his sword easily and wins the duel. A few hours later, Kirito and Asuna are fighting in the dungeon in floor 74, they arrive at the boss room and open the door.
9
The Blue-Eyed Demon [46]
Seigan no Akuma (青目の悪魔)
September 1, 2012
September 17, 2013 (DVD/BD)
September 28, 2013 (TV)
Kirito and Asuna enter the boss room to gather information, but after the starting sequence finishes they run all the way back to the Safe Area, where they talk while having lunch. Klein enters the area with his guild, and after a brief talk a squadron from The Army too, they request the map info from Kirito and he agrees. The Army's squadron departs toward the boss room, Kirito and company follow them, but when they finally reach the boss room the leader of the squadron is killed, and Asuna jumps in to safe the others, so Kirito follows, giving time to Fuurinkazan to save the others. After some hesitation, Kirito decides to reveal his secret, and after 10 seconds of changing his equipment, he enters back to the fight with his Dual Blades equipped. Kirito defeats The Gleam Eyes by himself, but only at the edge of death, he faints for a few seconds, when he recovers consciousness everybody is around him, and Asuna hugs him, Kirito explains about the Dual Blades to Klein and lets him activate the gate to the next floor. Asuna tells him that she'll take a break from her guild to be with Kirito; the next day Kirito is hiding in Agil's shop, when Asuna suddenly enters. In the Knights of Blood HQ, Kirito is challenged by their leader, Heathcliff, to decide Asuna's future.
10
Crimson Killing Intent [46]
Kurenai no Satsui (紅の殺意)
September 8, 2012
September 17, 2013 (DVD/BD)
October 5, 2013 (TV)
Kirito accepted the duel against Heathcliff, and they finally meet in a stadium on the 75th Floor. It was an intense battle, but Kirito managed to find an opening in Heathcliff moves. However, just as he was about to deal the finishing blow, Heathcliff moved at an impossible speed, blocking his attack and striking him instead. Having lost the duel, Kirito joined the guild and told Asuna about his time with the Moonlit Black Cats. She promises to protect him, and they head to the KoB HQ where they learnt that Godfree was planning to take Kirito to a training in a dungeon on the 75th Floor by Heathcliff order. To his surprise, Kirito found out that Kuradeel would accompany them. Along the way, the group stopped to rest and eat, but Kirito and Godfree end up being paralyzed by a poison Kuradeel put in the water. Kuradeel then killed Godfree and revealed that he was part of Laughing Coffin. Just as he was about to kill Kirito, Asuna appeared and easily reduced Kuradeel's HP to the red zone. Kureadeel then seemingly surrendered and begged for mercy and, when Asuna lowered her guard, Kuradeel tried to attack her. But then Kirito jumped in time and killed Kuradeel with Embracer. Kirito then asked Asuna to spend the night together, to which she agreed. At Asuna's house, Kirito proposed to Asuna and she agreed.
11
The Girl of the Morning Dew [46]
Asatsuyu no Shōjo (朝露の少女)
September 15, 2012
September 17, 2013 (DVD/BD)
October 12, 2013 (TV)

Kirito and Asuna talked to Heathcliff and he let them leave the guild for a while, but ordered them that they should return to the frontlines soon. In their house in 22nd floor, Kirito asked Asuna if their love will only last as long as they're on the game, but she argued and told him that she'll look for him in the real world and will still love him. They spent time together in a forest until they found a girl who suddenly fell unconscious, which was the rumored 'ghost' in the 22nd floor. She's no ghost, nor a player, nor even an NPC. They took her to their house and took care of her until she woke up. She claimed that she doesn't remember anything, aside from her name "Yui". She can't say Asuna and Kirito's name, and she called them "Mama" and "Papa" instead. They believed that she got separated from her family, they went to the Town of Beginnings to look for her parents and for her to recover her memories. Instead, they find a young woman named Sasha and the children she's taking care of being harassed by the Army for not paying the taxes. Asuna attacked their leader and the soldiers ran away in fear. As Sasha and the children thanked her, Yui reached for the sky and kept saying "Everyone's heart...". Asuna rushed to Yui and asked if she remembered anything. Yui then tells Kirito and Asuna that she realizes she has never been to the Town of Beginnings before. Suddenly her eyes widened and mysterious static sound spread out and affected everyone before Yui faints.

12
Yui's Heart [46]
Yui no Kokoro (ユイの心)
September 22, 2012
September 17, 2013 (DVD/BD)
October 19, 2013 (TV)
Kirito, Yui and Asuna are in the first floor talking with Sasha about her duty taking care of the children and the recent events involving The Army, when a member of such guild arrives. She presents herself as Yulier and explains everything that has happened as she asks for help to rescue Thinker, the real leader of the Army, who was trapped in a high leveled dungeon hidden in the first floor. They enter the dungeon and Kirito enjoys himself killing everything along his way until they are able to see the safe zone where Thinker was, but when Yulier was running towards it, she was attacked by The Fatal Scythe. Kirito and Asuna save her, but they nearly die, when Yui saves them, destroying the monster. It is revealed that she is the mental health AI, and was driven insane by watching all the player's pain and doing nothing. She is about to be deleted by Aincrad's AI controller, Cardinal, when Kirito saves her into a small blue crystal.
13
Edge of Hell's Abyss [46]
Naraku no Fuchi (奈落の淵)
September 29, 2012
September 17, 2013 (DVD/BD)
October 26, 2013 (TV)
While fishing near a lake, Kirito encounters Nishida, an old man and a network security manager who oversaw the game's development, who claimed that despite honing his fisherman skill, he is unable to create delicious dishes with them. Kirito then invites him to his home for Asuna to cook the fish he just caught for them. During their meal, Nishida mentions a huge fish he tried to catch many times but failed, thus he asks Kirito to help him. Nishida manages to hook the fish and gives the rod to Kirito to pull it away. The fish is revealed to be a huge monster whom Asuna slays. Soon after, Kirito receives a message from Heathcliff, and upon meeting him, they learn that a scouting party was trapped and killed in the 75th level's boss room, thus a team of players from several guilds is being assembled to confront it. As the time for the battle approaches, Kirito asks Asuna to stay behind fearing for her safety, but Asuna refuses, claiming that she would rather die than live without him. She also mentions that all players' real bodies must be currently treated in hospitals and their condition can not be kept indefinitely, thus fleeing to live by themselves trapped in the game forever is also out of question. As the players enter the boss room, they are confronted with "The Skull Reaper", a powerful monster capable of killing players with one blow. Kirito, Asuna and Heathcliff confront the creature head on while the other players attack it from the sides.
14
The End of the World [46]
Sekai no Shūen (世界の終焉)
October 6, 2012
September 17, 2013 (DVD/BD)
November 2, 2013 (TV)
After the group defeats the Skull Reaper, losing 14 men in the process, Kirito deduces that Heathcliff is, in fact, Akihiko Kayaba himself. Paralysing everyone but Kirito, Akihiko offers Kirito the chance to face him in a one-on-one duel where, should Kirito win, Akihiko would log out all the remaining players. After giving his best wishes to the others, Kirito accepts the challenge but is unable to overcome Akihiko's advantage over him. As Akihiko prepares to make the final blow, Asuna overcomes her paralysis and takes the hit instead, losing all of her HP and disappearing as a result. Distraught by Asuna's death, Kirito loses the will to fight and receives a fatal stab from Akihiko. However, at the point of death, Kirito remembers Asuna's belief in him and manages to regain enough substance to defeat Akihiko using Asuna's sword. They are both killed simultaneously and the game is declared cleared. Kirito then awakens high above the game world where he finds both Asuna and Akihiko, who reveals he has logged out all the other players as promised and explains his motives for making Sword Art Online. As the world falls apart, Kirito and Asuna reveal their true names, Kirigaya Kazuto and Yuuki Asuna, and embrace each other as the world disappears. To his surprise, Kazuto awakens in a hospital in the real world and despite being physically weak, sets off to search for the real Asuna.
Fairy Dance Arc
[
]
No.
Title
Original Airdate
English Dub Airdate[citation needed][† 1]
15
Return [46]
Kikan (帰還)
October 13, 2012
October 15, 2013 (DVD/BD)
November 9, 2013 (TV)
Two months after being freed from SAO, Kazuto continues to be plagued with nightmares about Asuna. Since his two-year coma in the game, his sister, Kirigaya Suguha, has been constantly worrying about him. The pair have a kendo spar, and though Kazuto loses, Suguha is both shocked and curious about his unusual yet proficient sword fighting skills as a result of his time in SAO. Later, Kazuto goes to the hospital to visit Asuna who, along with 300 other players, has yet to wake up even after the SAO incident. It is there that he meets an associate of Asuna's father, Sugou Nobuyuki, who tells Kazuto that he intends to be adopted into Asuna's family while she is still comatose as a precursor to marriage, much to Kazuto's fury. Claiming that this is his right since it was his company that had been keeping SAO's server online after it's developer went bankrupt, he's keeping Asuna alive, he informs Kazuto that the ceremony will occur in a week and tells him not to see her again. Later at home, Kazuto breaks down before Suguha, who tells him not to give up, despite knowing Kirito is actually her cousin and harboring her own feelings for him. The next morning, Kazuto receives an e-mail from Agil with a screenshot of an avatar resembling Asuna from another game.
16
Land of Fairies [46]
Yōsei-tachi no Kuni (妖精たちの国)
October 20, 2012
October 15, 2013 (DVD/BD)
November 16, 2013 (TV)
Kazuto visits Agil to know more about the photo, and learns about a new game, SAO's successor, ALfheim Online and that Asuna might be in the game at a place called the World Tree. Kazuto goes home and starts to play the game. Due to malfunction of the game, Kirito is transported to a forest, and find that all of his SAO data was transferred into Alfheim along with Yui. Kirito learns the basic of flying from Yui. While two players called Leafa and Recon are attacked by a group of players causing Recon to die but when Leafa was surrounded, Kirito appears to rescue her.
17
Captive Queen [46]
Toraware no Joō (囚われの女王)
October 27, 2012
October 15, 2013 (DVD/BD)
November 23, 2013 (TV)

Kirito killed two of the players and asked the last one if he wanted to fight, but he made an excuse before flying away. Kirito asked Leafa if she also wanted to fight, to which she declined. Leafa offered to buy Kirito a drink as a thank-you for saving her, so she took him to Swilvane, an Sylph town. There they met Recon, who had respawned there. He told her that Sigurd and the others had saved her a seat at their usual meeting place, but Leafa declined, explaining that she had promised Kirito a drink. At a tavern they go to, Kirito asked about the World Tree, and was told that there was a Grand Quest to clear it, and to receive unlimited flight, but Leafa thought that it was impossible. Kirito got angry, but calmed down and thanked Leafa, telling her he would go alone. When Kirito was about to leave, Leafa offered to take him. He thanked her, and she logged out. At this point, it was revealed that Leafa was Suguha. Kirito lay in bed with Yui at the tavern, and promises her that he would rescue Asuna and reunite them all. He then logs off by falling asleep.

Meanwhile, Asuna sat in a golden cage, and looked wistfully at the birds outside. Oberon (Sugou Nobuyuki) then approached her, and taunted her about the fact he was experimenting on the brains of the SAO players who had yet to wake. She told him that she would tell the police, but he told her that he would alter her memory as well. Asuna tried to read the door code as Oberon left, but was unable to due to the distance effect. Once he was gone, she cried out for Kirito to save her.

18
To the World Tree [46]
Sekaiju e (世界樹へ)
November 3, 2012
October 15, 2013 (DVD/BD)
November 30, 2013 (TV)

Suguha reminisces about how she started VR gaming, and then meets up with Recon's real life persona, Shinichi Nagata. She informs him that she will be leaving their party to join Kirito. Later, she logs in as Leafa and accompanies Kirito to shop for new equipment, but runs into her party. The group is led by Sigurd who does not take kindly to Leafa's departure and warns them they will be considered renegades for not sticking their allegiance to their race's territories. Before Kirito and Leafa set off, Recon approaches them, saying that though he wants to join them, he will remain in the party to keep an eye on Sigurd due to some suspicions he has on him. Later during their travels, Kirito and Leafa arrive at a landing point where they take turns logging out to refresh themselves. After Kirito returns, they both set off again, unaware that they are being followed by a mysterious group. Meanwhile, Asuna learns from Sugou that Kirito is still alive and secretly obtains the keycode for her cage's lock.

19
The Legrue Corridor [46]
Rugurū Kairō (ルグルー回廊)
November 10, 2012
October 15, 2013 (DVD/BD)
January 4, 2014 (TV)
While passing through a cave, Leafa gets a message from Recon warning her to take care when she and Kirito realize that they are being followed and try to escape, only to cornered by a large group pertaining to the Salamander faction. Kirito asks Leafa to support him with her magic while he fights the group by himself, but he is unable to break their formation until Yui comes up with a plan to have Leafa cast some protective magic on Kirito while he conjures a spell that transforms him into a giant monster that obliterates the enemies, save for one whom Kirito bribes in exchange for information. He reveals that his party were sent to attack them by orders of the same group which attacked them when they first met. After arriving at the next town, Suguha logs out for a while and is called by Shinichi who reveals to her that Sigurd is in cahoots with the Salamanders, who threaten to attack the Sylphs and Cait Siths during a meeting to establish an alliance. Upon logging in again, Leafa explains the situation to Kirito and states that for his own sake, he should proceed without her, as allying with the Salamanders may be the best option for him in order to reach the top of the World Tree. Kirito instead claims he will not abandon her and makes use of his speed to break out of the cave with her.
20
General of the Blazing Flame [46]
Mōen no Shō (猛炎の将)
November 17, 2012
November 19, 2013 (DVD/BD)
January 11, 2014 (TV)
Kirito and Leafa reach the meeting place just as the Salamanders prepare to attack the Sylphs and Cait Siths. Seeing that they have no chance against them, Leafa thanks Kirito for all he has done for her and asks him to continue to the World Tree by himself, but he rushes forward and stands before the Salamander General Eugene instead, bluffing that he is an ambassador for the Spriggans/Undines alliance and to attack them would lead to the four factions waging war against the Salamanders. Eugene does not believe him and challenges him to a duel. Kirito is severely punished by Eugene's sword which can bypass his defenses, until he conjures a huge smokescreen, making use of it to steal Leafa's sword and turn the tides of the battle fighting Eugene with two swords. After Eugene is defeated, he is revived by Sakuya, the leader of the Sylphs and leaves in peace with his army. Having his treason exposed, Sigurd is contacted by Sakuya who strips him of his title and has him banished from the Sylph territory. After learning that the now allied Sylphs and Cait Siths plan an incursion to the World Tree in a couple of days, Kirito donates a large sum of money to Alicia, leader of the Cait Siths, to aid them in their war effort and departs ahead with Leafa. Meanwhile, Asuna makes use of the code she had previously learned to open the cage and escape.
21
The Truth about ALfheim [46]
Aruvuheimu no Shinjitsu (アルヴヘイムの真実)
November 24, 2012
November 19, 2013 (DVD/BD)
January 18, 2014 (TV)
Kirito and Leafa finally arrive at Alne and a voice announces that there will be server maintenance soon. Kirito asks if there's a cheap inn because he gave away most of his cash to log out at and Yui points them to it. In the real world Kazuto greets Suguha and notices that she is sleepy. Suguha tells Kazuto she was up late on the internet and Kazuto pours cold water down her back. Meanwhile Asuna uses the code she learned to get out of her cage and tries to escape. While looking for a system console so she can log out she notices a map with a room marked experiment. Curious she heads there where she sees holograms of brains who seem like they are in pain. She vows to help them but notices a couple of scientists who logged in in the form of slimes. She heads towards the console but gets caught and thrown back in the cage but not before snagging a GM card.
22
The Grand Quest
Gurando Kuesuto (グランド・クエスト)
December 1, 2012
November 19, 2013 (DVD/BD)
January 25, 2014 (TV)
Kirito rushes up the World Tree as high as he can but is blocked by the barrier set up by the moderators. As Yui calls out to Asuna, she hears her and throws down the key card to Kirito. Resolving to get to where Asuna is, Kirito decides to part from Leafa in order to take on the Grand Quest to reach the top of the tree himself. Upon entering the dome at the base of the tree, Kirito is faced with hundreds of valiant guardians, which he angrily battles against. Despite his best efforts, Kirito is overwhelmed and runs out of HP. Just then, Leafa manages to gather Kirito's flame, containing his soul, and get him out of the dome in order to revive him. As Leafa tries to talk Kirito out of going back in there alone, she hears him speak Asuna's name, leading Suguha to realise that Kirito is actually Kazuto. As they both realise each other's identities and log out, Suguha reveals to Kazuto both the fact that she fell in love with both of his identities and how she knew they weren't really siblings before shutting herself in her room.
23
Bonds
Kizuna (絆)
December 8, 2012
November 19, 2013 (DVD/BD)
February 1, 2014 (TV)
In sorrow, Kirito remembers how he discovered the truth about his parents, and the reason he started playing video games. After a moment of solitude, he tells Suguha to meet him at the north terrace of Alne, to fight each other as a way of expressing their feelings. However after a moment of fighting, they ended up hugging each other, and expressing their thoughts before going to the dome again, with Recon's help this time. Everything goes well until the Guardians target Recon and Leafa, ending in Recon's sacrifice to open the way, before it closes again. At that moment, hordes of Sylphs and Cait Sith Dragoons aid them, allowing the way to the door to be opened once more. Leafa throws her sword to Kirito, allowing him to break through the last blockade of Guardians, only to discover that only the game administrators may open the door. Thinking fast before another spawning Guardians attacks him, Kirito gives the system-access card to Yui, thus allowing them to open the door, and get inside.
24
Gilded Hero
Mekki no Yūsha (鍍金の勇者)
December 15, 2012
November 19, 2013 (DVD/BD)
February 8, 2014 (TV)
Arriving at the top of the World Tree, Kirito and Yui finally manage to reunite with Asuna. However, they are suddenly hit by high gravity magic, which forces Yui to retreat, and are confronted by Sugou. As Sugou reveals his plans to control the human soul, he chains Asuna up and starts to molest her in front of Kirito, who is stabbed and forced to endure incredible pain. As Kirito falls into despair, he hears the voice of Akihiko, who encourages him to stand up and fight, realising the pain is nothing compared to the pain of SAO. Using Akihiko's administrative abilities, Kirito manages to strip Sugou of his admin privileges and challenges him to a fight with no pain absorption, showing him what true pain is before finishing him off. After logging Asuna out, returning her to the real world, Kirito meets with the remnant of Akihiko's memory, who gives him an item called The Seed before leaving. After returning to the real world and giving his thanks to Suguha, Kazuto makes his way to the hospital to finally meet Asuna for real.
25
The World Seed
Sekai no Shushi (世界の種子)
December 22, 2012
November 19, 2013 (DVD/BD)
February 15, 2014 (TV)
Rushing to the hospital Kazuto is attacked by an injured Sugou with a knife at the parking area. Kazuto manages to disarm him, and after considering everything Sugou has done, Kazuto spares his life. Kazuto finally meets with Asuna where they have a tearful reunion. On May 16, 2025, Kazuto and Asuna have returned to school, attending a special school for students who were trapped in SAO. As they have lunch, Kazuto reveals Sugou was arrested by the police after their fight and the crimes he committed were exposed by one of his employees. The 300 players that were trapped by Sugou were freed but his experiments shocked the public. Due to the scandal, Asuna's father and his higher ups resigned and shut down Alfheim Online with other VRMMORPG following suit. Later, Asuna, Kazuto and Suguha head to Agil's bar where Liz, Silica, Yoruko, Kains, Sasha, Yulier, Thinker, Klein and his guild are waiting, and they have a party to celebrate Kazuto for freeing them from SAO. Kazuto gives Agil "The Seed" to be analyzed which is revealed to be a program that allows anyone with a server to create their own VRMMORPG and it allows to transfer players to other VRMMORPG easily. «The Seed» is uploaded to the internet which revives the VRMMORPG genre. Later that night in Alfheim Online, now run by a new company, Kirito meets up with Leafa where they share a dance in the sky. Leafa decides to leave since she feels she cannot keep up with her brother but Kirito reveals his character stats have been reset. As a surprise, the floating castle Aincrad from SAO has been brought into Alfheim Online which Kirito then declares he intends to finish clearing all 100 floors. With their friends from SAO and ALfheim Online flying towards the castle, Leafa, Kirito, Asuna and Yui join them.
Special Episode
[
]
No.
Title
Original Airdate
English Dub Release Date
Extra
Extra Edition
Sōdo Āto Onrain Extra Edition (ソードアート・オンライン Extra Edition)
December 31, 2013
December 23, 2014 (DVD/BD)
Suguha is revealed to be afraid of water. Thus, Asuna, Rika, and Keiko gather at the SAO Survivor School to teach her how to swim. Meanwhile, Kazuto is called for emergency counseling at the school, but, once there, he finds out that it had been a ruse for Kikuoka Seijirou to meet him to talk about the SAO and ALO incidents. During breaks between swimming practice, Suguha asks the other girls how they had met Kirito, so they tell her their stories. Later, in ALfheim Online, the team go on an underwater quest. They had to find a pearl, which was actually an egg. The NPC, who appeared to be an old man, transforms into a Kraken and demands the fairies to give him the egg. Although the fairies try to fight the beast, they find out that the boss is stronger than even Aincrad Floor Bosses. Suddenly, Leviathan the Sea Lord appears and scares off the beast. He then takes the egg to hide it again, and sends the team home on a whale.
Season 2
[
]
Phantom Bullet Arc
[
]
No.
Title
Original Airdate
English Dub Airdate[citation needed]
1
The World of Guns [47]
Jū no Sekai (銃の世界)
July 5, 2014
March 28, 2015
On November 9, 2025; during the stream of «This Week's Winners», featuring XeXeeD and Yamikaze, the winner and runner up of the recently held 2nd Bullet of Bullets tournament, in a bar in SBC Glocken, a cloaked man calling himself Death Gun shoots the image of XeXeeD during the stream and moments later, XeXeeD is disconnected from the show. Nearly one month later, on December 7, 2025; Kirigaya Kazuto meets up with Yuuki Asuna at the East Gardens of the Tokyo Imperial Palace for a date. During the date, he has a flashback of his meeting with Kikuoka Seijirou from about four hours before. During the meeting, he was told about the Death Gun incident and asked to investigate it by finding Death Gun in Gun Gale Online. Meanwhile, in Gun Gale Online, Sinon shoots a player from a monster hunting party.
2
Ice Sniper [47]
Koori no Sogekishu (氷の狙撃手)
July 12, 2014
April 4, 2015
On September 14, 2025; Sinon acquired the PGM Ultima Ratio Hecate II by defeating a boss-class monster in a dungeon beneath SBC Glocken. Three months later, on December 7, 2025; Sinon, who had been invited to Dyne's PvP squadron two weeks before, was called upon to kill the supposedly only person in a PvE party that had a live-ammunition gun and posed a threat in PvP. Although Sinon successfully sniped the player with a minimi, a new player in the party turned out to be a hired bodyguard, named Behemoth, who was armed with a GE M134 Minigun. Sinon decided to personally kill the bodyguard, as she believed that he was strong thus killing him would help her become stronger. Meanwhile, in ALfheim Online, Leafa, Lisbeth and Silica were hunting mobs to get materials for Lisbeth, while Kirito and Asuna were enjoying their time together, until Kirito decided to tell Asuna about converting his account to Gun Gale Online.
3
Memories of Fresh Blood [47]
Senketsu no Kioku (鮮血の記憶)
July 19, 2014
April 11, 2015
Two days after the events in Gun Gale Online, Asada Shino, the person controlling the avatar Sinon, was in the market district, when she was approached by Endou's group and forced to come to an alley where they could demand money from her. As Shino did not accept their demands, Endou made an imitation of a pistol with her hand, causing Shino to have a panic attack. Before Endou could leave with Shino's stuff, Shinkawa Kyouji pretended to be bringing a police officer, scaring off the delinquents. Kyouji then accompanied Shino to a cafe where they had a conversation about Gun Gale Online. After the conversation, Shino returned home, where she tried out holding a model «Procyon SL» to test whether her experience with Behemoth had helped her with her phobia of guns, but was disappointed that the result was the same. Meanwhile, Kazuto arrived at Toritsu Central Hospital, from where he logged into Gun Gale Online while his body was left to the care of Nurse Aki in case the rumour about Death Gun's ability was true.
4
GGO [47]
July 26, 2014
April 18, 2015
After logging in to Gun Gale Online, Kirito found himself within the capital city SBC Glocken. To his surprise, he ended up with a very feminine avatar. After hopelessly navigating the city, Kirito decided to ask a person he noticed for directions. However, he was surprised when the person turned out to be a girl, named Sinon. Mistaking Kirito for another girl player and empathising with "her" as a beginner female, Sinon showed Kirito the way to a general gun store. As Kirito did not have enough money, he asked if there was an easy way to earn money, so Sinon told him about one of the gambling games around. After Kirito won the Untouchable! game and won over 300,000 credits, Kirito bought a Kagemitsu G4 photon sword due to not having much experience with guns. Under Sinon's advice, he also bought an FN Five-Seven pistol and then went to a shooting range to practise firing. After the two were done shopping and left the store, Sinon noticed that they only had 10 minutes until the Bullet of Bullet registration would be closed. While running to the registration, Kirito noticed a place to rent a buggy and used one to get to the registration on time.
5
Guns and Swords [47]
Jū to Ken (銃と剣)
August 2, 2014
April 25, 2015
After arriving at the government office, Kirito and Sinon began registering for the Bullet of Bullets tournament. Seeing that the registration required filling in the player's real life contact details in order to be eligible for real life prizes, Kirito was tempted to write them in, but managed to restrict himself. Kirito was then led to a dressing room to prepare for the tournament, but Kirito only realised what the room was for when Sinon started undressing. Trying to look away, Kirito quickly revealed to Sinon that he was a guy. Later, Sinon reluctantly explained to Kirito how the tournament worked. Kirito's first match was against a player named Uemaru. After Kirito realised that he could use the Bullet Lines to predict the trajectories of Uemaru's bullets and then slice them with his photon sword, Kirito won the match by stabbing Uemaru in the chest. After returning to the waiting room, Kirito was approached by the mysterious player calling himself Death Gun.
6
Showdown in the Wilderness [47]
Kōya no Kettō (曠野の決闘)
August 9, 2014
May 2, 2015
After his encounter with Death Gun, Kirito realised that Death Gun was a member of Laughing Coffin in Sword Art Online. After Death Gun took his leave, Kirito recalled the events of the crusade against Laughing Coffin in Sword Art Online. During the crusade, the clearers were ambushed by members of the Laughing Coffin and a massacre ensued. As the clearers hesitated killing the red players, several clearers died, causing Kirito's to kill Laughing Coffin members in anger. By the end of the crusade, 21 members of Laughing Coffin were killed, while two of those were killed by Kirito himself. Kirito's thoughts were then interrupted by Sinon who remarked that he looked awful and wondered if he would be able to reach the finals at that rate. After seeking comfort in Sinon's hand, Kirito was teleported to his next match during which he regained his fighting spirit. Some time later, after defeating Stinger, Sinon was teleported to the block finals where she would face Kirito. To her surprise, Kirito did not even try to win the battle, greatly angering Sinon. Realising this, Kirito offered to have a duel to settle the match. By predicting where Sinon would shoot via following her eyes, Kirito managed to get close and forced Sinon to resign.
7
Crimson Memories [47]
Kurenai no Kioku (紅の記憶)
August 16, 2014
May 9, 2015
In the Kirigaya residence, Suguha showed Kazuto news about the participants of the Bullet of Bullets tournament, among which was Kazuto's avatar's name. Although Kazuto tried to hide the fact that he converted to Gun Gale Online, Suguha told him that she had already found out about it from Asuna. After a flashback of Kazuto's talk with Asuna the previous day, Suguha told him that she was worried, as Kazuto had a scary face when he came back home last night. Kazuto then calmed Suguha down by promising that he would be back. Meanwhile, Shino was venting her anger about Kirito to Kyouji. Kyouji then told her that she was not acting like her normal self and, after a short conversation, tried to hug her, but was pushed back. At the hospital, seeing that Kazuto was troubled by something, Aki offered a free counselling session. When Kazuto tells her about how he killed red players in Sword Art Online, Aki told him that she could not help him with that burden, but reminded him that he killed them to protect others. After calming down, Kazuto logged into Gun Gale Online. Meanwhile, in ALfheim Online, while Asuna and the the others were fighting a monster, Asuna got distracted and barely managed to chant a healing spell on time. In Gun Gale Online, Sinon met Kirito at the governor's office by chance.
8
Bullet of Bullets [47]
Baretto obu Barettsu (バレット・オブ・バレッツ)
August 23, 2014
May 16, 2015
After much persistence, Kirito was able to convince Sinon to tell him the details of the Bullet of Bullets royale. After the explanation, Kirito stopped Sinon from leaving and then asked her whether there were BoB participants that she did not know about and found out that, aside from him, there were three other players who had not participated in the former tournaments. Later on, during the tournament, after sniping Shishigane, Sinon moved to a safe place where she checked on the satellite scan. She noticed that the closest players, aside from Lion King Richie, were Dyne and Pale Rider, thus she decided to target them. Having found a sniping position on the west side of the bridge that Dyne had crossed, she was preparing to take action, but then heard a noise and realised that someone had closed in on her from behind as well. When she tried to draw her side arm, she was stopped by the player, who was revealed to be Kirito. He then asked Sinon to not take any action and just watch Dyne and Pale Rider's battle. After Pale Rider defeated Dyne, he was shot with a silent stun bullet and, after several moments, the shooter, Death Gun, came from the bridge.
9
Death Gun [47]
Desu Gan (デス・ガン)
August 30, 2014
May 30, 2015
In Kirito and Asuna's rented home in Yggdrasil City, Asuna and the others were watching the live broadcast of the Bullet of Bullets tournament via MMO Stream. As Kirito was not shown by any camera, they were drawn by an interesting battle between Dyne and Pale Rider. However, after Pale Rider defeated Dyne, he was struck with a stun bullet fired by a player in a cloak. Sinon attempted to shoot the player in a cloak, but he managed to dodge the bullet and then he shot Pale Rider with his pistol. When Pale Rider got up, he suddenly fell down again and seemingly got disconnected. The player in a cloak, Death Gun, then looked up to the camera and introduced the power himself and his gun to the viewers, finishing his monologue with the catchphrase used by PoH. After hearing this catchphrase, Klein recognised him as a member of Laughing Coffin. Meanwhile, Sinon attempted to find out the name of the cloaked player, but he was not shown on the satellite scan, thus Sinon assumed that he had went underwater. The two decided to follow the player, but were then interrupted by Kakouton who came after seeing them on his satellite scan terminal. While Kirito blocked Kakouton's bullets, Sinon used her sniper to kill him. The two then proceeded towards the Lost City. However, since they could not find him along the way, they decided to look for him during the next scan and, after a discussion, decided that if both Sterben and Juushi X (

銃士X

,

Jūshi X

?

) were present in the city, they would go after Juushi X, as his name sounded like Death Gun (

死銃

,

Shijū

?

) backwards. During the scan, they found Juushi X at a stadium, while Sterben was not shown as being in the city. The two rushed to the stadium and, after confirming that there was a sniper in the stadium, decided to split up. However, while Sinon was going to a sniping position, she was shot with a stun bullet. Death Gun, who was actually Sterben, appeared moments later after disabling his optical camouflage mantle and then claimed that he was going to kill her. Sinon attempted to take out her side arm, but, after seeing that Sterben was carrying the Type 54 Black Star, she dropped her weapon and the sound of a gun firing could be heard.
10
Death Chaser [47]
Shi no Tsuigekisha (死の追撃者)
September 6, 2014
June 6, 2015
As Sterben was about to shoot Sinon, he was interrupted by Kirito, who shot him with a sniper and then threw a smoke grenade, which forced Sterben to retreat. Kirito then grabbed the petrified Sinon and her sniper and ran for a nearby buggy and horse rental point. He put down Sinon in the only working buggy and then told Sinon to shoot the only functional mechanical horse to make it unusable. However, Sinon could not exert force on the trigger and they were caught up to by Sterben, who then took the mechanical horse to chase them. During the chase, after Kirito drove through a ramp, he helped Sinon pull the trigger. Though Sinon missed Sterben and hit the fuel tank of a truck, the explosion of the truck forced Sterben to abandon his horse and thus allowed Kirito and Sinon to escape. The two then drove into the desert, where they found a cave that they could hide in and avoid the next satellite scan. Inside the cave, both Sinon and Kirito told each other about having killed someone in the past.
11
What it Means to be Strong [47]
Tsuyosa no Imi (強さの意味)
September 13, 2014
June 13, 2015
After hearing that Kirito had killed people in Sword Art Online, Sinon asked him how he was able to overcome the memories of the people he killed, but Kirito revealed that he did not overcome the memories and instead accepted the weight of them, as it was the minimum that he could do to atone for his actions. Kirito and Sinon then began discussing about Death Gun and his victims. While thinking about how Death Gun was able to stop the heart of players by shooting them in the game, Kirito realised that Death Gun did not shoot him with the pistol, but with the sniper instead. Based on this, Kirito deduced that Death Gun had to make preparations in real life to be able to kill the players with his pistol. He then remembered that players could input their real life details in the Governor's Office and that someone could have seen the details being input, as it was an open space and the terminals did not offer much privacy. Kirito then brought up the idea that Death Gun could have used his mantle to spy on other players without being noticed. After some thinking, Kirito realised that Death Gun was actually more than one person: one shot the player in game, while the other killed the player in real life by injecting them with a lethal drug. Meanwhile, Chrysheight came to ALO under Asuna's request and, after Yui revealed all the information on the incident that she had gathered, Chrysheight explained the situation to Asuna and the others. Asuna then requested to know of Kazuto's whereabouts and decided to go to him in real life. Back in the game, Kirito and Sinon decided on a course of action and were surprised to find out that they were being filmed by one of the cameras.
12
Bullet of a Phantom [47]
Maboroshī no Jūdan (幻の銃弾)
September 20, 2014
June 20, 2015
After checking the map, Kirito found out that twenty four players had already been killed, while only Yamikaze and himself were shown on the map. Seeing as, even accounting for Sinon, Sterben and Pale Rider, the number of players killed and still alive did not match the total, Kirito speculated that Death Gun had more than one accomplice in charge of the killings in the real world. Fearing that Yamikaze might also be a target, Kirito and Sinon decided that Kirito should be the bait, while Sinon sniped Yamikaze and Sterben from a distance. Some time later, while Yamikaze was closing in on Kirito, Sterben attempted to kill Kirito. Sensing the killing intent of the player killer, Kirito managed to sense where he would be shot from and barely managed to dodge the bullet. Noticing a sniper shot, Yamikaze immediately hid behind an obstacle for cover, but he was then shot by Sinon and killed. After handling Yamikaze, Sinon turned her attention to Sterben, but, as she had already used up her no-Bullet Line shot, Sterben was able to see her targeting him. The two of them fired at each other at the same time and, while Sterben managed to destroy Sinon's scope, Sinon managed to destroy Sterben's sniper. However, as Kirito was about to strike Sterben, the masked player drew out an estoc and countered Kirito's attack. After a conversation, Sterben began assaulting Kirito with overwhelming speed.
13
Phantom Bullet [47]
Fantomu Baretto (ファントム・バレット)
September 27, 2014
June 27, 2015
While watching Kirito's unsuccessful struggle with Sterben, Sinon wondered if there was anything that she could do to help now that her scope was destroyed and she thus could not snipe. Meanwhile, while trying to hold out against Sterben's overwhelming speed and get an opening to counter attack, Kirito tried to recall the name Sterben had in Sword Art Online. Just as he was about to be struck again he recalled, based on Sterben's red eyes, that the player used to be called «Red-eyed XaXa». Surprised by hearing his name, Sterben missed his target. Then, while his sense of judgement was slowed down, Sinon aimed a Bullet Line towards Sterben, causing him to instinctively avoid it, even though Sinon would not have shot him. During this opening, Kirito tried to counterattack, but Sterben used his optical camouflage to disappear. At this moment, Kirito felt the warmth of Asuna's hands and remembered about the FN Five-Seven that he had as his side-arm. He then used the pistol to shoot at Sterben, causing his camouflage to malfunction, and used his photon sword to slice through Sterben. In the aftermath, Sinon and Kirito exchanged contact details and Sinon decided to end the tournament with a Gift Grenade, allowing them both to be the winners. Back in her apartment, Shino checked for intruders, but instead found Kyouji at the door. However, after a conversation with him, Kyouji began acting strange and tried embracing Shino, causing her to push him off her. Kyouji then took out a syringe of a lethal drug, called succinylcholine, and revealed that he was one of Death Gun's accomplices and that he intended to inject the drug into her so that they could be reborn in another world. Shino managed to break free and tried running out of the apartment, but, as she was about to open the door, Kyouji caught her. Just then, Kazuto ran into the room and attacked Kyouji.
14
One Small Step [47]
Chisana Ippo (小さな一歩)
October 4, 2014
July 11, 2015
While Kazuto tried to defend himself against Kyouji, he left an opening for Kyouji to attempt to inject him with succinylcholine. Instead of running away, Shino returned inside and knocked Kyouji out with a stereo. Shino then checked on Kazuto's condition, but found out that there was an electrode stuck at the part of his chest where Kyouji had attempted to inject him with the drug and that the electrode protected him against the needleless syringe. Several days later, Shino was called out by Endou, who again tried to demand money from her. As Shino refused the demand, Endou took out a model gun and threatened Shino. However, after Endou unsuccessfully attempted to fire with it, Shino took the gun from Endou, showed her that the safeties needed to be disabled to fire and then shot a can with it before returning it back to Endou. As Shino was about to leave the school grounds, she saw that Kazuto was waiting for her near the entrance and drawing unwanted attention. Kazuto first drove Shino to a cafe to meet with Kikuoka Seijirou about the Death Gun incident. After that, Kazuto took Shino to the Dicey Cafe, where he introduced her to Asuna and Shinozaki Rika (Lisbeth). Kazuto then revealed that he had told the two girls about Shino's past and explained that he had them help him with finding a certain person that she should meet. The person was revealed to have been a woman, named Oosawa Sachie, who was the post office worker threatened by the robber that Shino killed. The woman thanked Shino for saving her life and told her that she was pregnant at the time, so Shino had also saved the life of her daughter, Mizue. Kazuto then explained that he wanted Shino to think about the people that she had saved by killing the robber and thus be able to forgive herself for it.
14.5
Debriefing
October 11, 2014
N/A
A summary episode of the Phantom Bullet arc.
Calibur Arc
[
]
No.
Title
Original Airdate
English Dub Airdate[citation needed]
15
Queen of the Lake [47]
Mizūmi no Ou (湖の女王)
October 18, 2014
July 18, 2015
On December 28, 2025; Kirigaya Suguha showed her cousin, Kirigaya Kazuto a news article about the legendary item, the «Holy Sword Excalibur», being discovered in ALfheim Online. Without delay, he called Asuna, Klein, Lisbeth, Silica and Sinon to challenge the dungeon in the sky of Jötunheimr. After preparing their items at Lisbeth's arms shop and purchasing potions for the adventure, the group entered Jötunheimr via a secret passageway in Alne. At the end of the tunnel, they reached the top of Jötunheimr and Leafa called Tonkii, a flying evil-god-class monster that they had befriended several months ago. The group climbed on Tonkii's back and asked it to ferry them to the ice dungeon. However, along the way, Tonkii suddenly dived and stopped at an altitude where they could see the ground. There they saw that players were cooperating with the humanoid evil-god-class monsters to massacre Tonkii's kin, the beast evil-god-class monsters. As they were watching the scene, a giant NPC, the «Queen of the Lake» Urðr, appeared behind them. The NPC explained that the massacre was ordered by the king of the giants, Thrym, who once threw the Holy Sword Excalibur into Urðr's Spring and caused the world of Jötunheimr to turn into an icy wasteland. She then explained that if all of Tonkii's kin were slaughtered, she would lose her power and this would allow Thrym to invade the land of the fairies, Alfheim. To prevent this, Urðr requested the fairies to retrieve the Holy Sword Excalibur from the bottom of the ice dungeon, called Thrymheim.
16
King of the Giants [47]
Kyojin no Ou (巨人の王)
October 25, 2014
July 25, 2015
At the entrance to Thrymheim, Yui explained that the quest they were given was created by the Cardinal System's «Automatic Quest Generation Function» and that if they did not succeed in their quest, a final war event, Ragnarok, would be triggered. Some time later, at the end of the second floor of Thrymheim, the group encountered two minotaurs, one of which had high resistance for magical attacks, the other for physical attacks and would change places to heal after having suffered too much damage. As the party did not have any mages with offensive spells, they relied on Sword Skills that could deal elemental damage in addition to physical damage, but left the player rigid for a few seconds after the skill ended. With Kirito revealing his new technique of using consecutive Sword Skills with each of his swords to avoid the period of rigidity, they were able to defeat the two minotaurs. Later, after defeating the boss guarding the entrance to the lowest floor of the castle, the fairies encountered an NPC woman trapped in an ice cage along the way. Although the group insisted that it was a trap and planned to avoid her, Klein ignored their advice and freed the woman, who was revealed to be Freyja. Instead of running away, Freyja asked to join the group and Kirito reluctantly agreed to the request. After preparing for the final battle by recharging their buffs, the group entered the throne room where they met the king of the frost giants, Thrym.
17
Excalibur [47]
Ekusukyaribā (エクスキャリバー)
November 1, 2014
August 1, 2015
The battle against Thrym began with Thrym's attack. Surviving the initial attacks, the fairies and Freyja managed to bring down Thrym's HP to two bars. However, after they survived a breath attack, Freyja approached Kirito and Leafa and requested them to find her family treasure, a golden hammer, hidden within the room, as they would not be able to defeat Thrym otherwise. Under Leafa's advice, Kirito used «Lightning Fall» to find the hammer hidden in the piles of treasure. Unexpectedly, once the hammer was returned to Freyja, she transformed into a giant man, the god of thunder, Thor. With Thrym's attention occupied with Thor, the fairies rushed to help Thor with their own attacks. Once Thrym's HP was nearly depleted, Thor finished Thrym off with his hammer. Before Thor took his leave, he rewarded Klein with a miniature replica of his hammer. At that point, the fairies found out that the quest had not yet been completed, as Excalibur had not been yet retrieved, and Yui informed them that new stairs had appeared behind the throne. At the room where Excalibur was held, Kirito successfully managed to pull out the sword from its plinth. This caused the roots of the World Tree to grow and Thrymheim to break. As the fairies were falling, Tonkii arrived to rescue them, but, as Kirito could not store Excalibur into his inventory and it was too heavy for him to jump on Tonkii with, he had to leave the sword behind. But unexpectedly, Sinon used an archer spell, called «Retrieve Arrow», to retrieve the lost sword which she then gave to Kirito, after teasing him to always remember her when he used it. The fairies were then approached by Urðr and her sisters who rewarded the fairies for their help. Back in the real world, the group met up at the Dicey Cafe where they celebrated the end of the year and the successful completion of the quest.
Mother's Rosario Arc
[
]
No.
Title
Original Airdate
English Dub Airdate[citation needed]
18
The House in the Forest [47]
Mori no Ie (森の家)
November 8, 2014
August 8, 2015
On December 20, 2025; Kazuto and Asuna had a date at Andrew's cafe. When they started talking about their old home in Aincrad, Andrew told them about the revealed contents of the upcoming ALfheim Online update, including the introduction of the 21st-30th floors of New Aincrad. On Christmas Eve when the update took place, Asuna challenged the Floor Boss of the 21st Floor with the hope that their old home on the 22nd Floor remained unchanged. After a fierce battle, the group managed to successfully reach the 22nd Floor. There Asuna and Kirito rushed to the place of their old home and re-purchased it. On January 6, 2026; Asuna, Leafa, Lisbeth and Silica were doing their homework at Asuna and Kirito's log house, while Kirito was sleeping on the rocking chair with Pina and Yui on top of him. As Kirito's aura of sleepiness was making everyone else sleepy, Asuna made some tea and the girls stepped outside. Lisbeth then asked if Asuna had heard about the stories about Absolute Sword. As Asuna had been away during the New Year and did not have access to the Internet, so she could not have heard such stories, Lisbeth explained that Absolute Sword was a strong player who had likely converted from another game and was challenging other players at an island on the 24th Floor. Although many players challenged them, including Leafa and Lisbeth, they were all beaten easily. However, Silica explained that players would likely continue to challenge the mysterious player as they were betting an 11-hit Original Sword Skill, having a higher combo than the previous top Original Sword Skill, General Eugene's 8-hit «Volcanic Blazer». After hearing that Kirito had also fought the player and lost, after saying something to them, Asuna decided to challenge the player herself. At that moment, Asuna noticed that it was already past her dinner time, but before she logged out, she asked Lisbeth if the player could be a former SAO player. Lisbeth answered by saying that she had asked Kirito what he thought about the player after battling them and his response was that the player could not have been an SAO player, as the «Dual Blades» skill would have been given to them instead of him.
19
Zekken [47]
Zekken (絶剣)
November 15, 2014
August 15, 2015
After agreeing to meet everyone the next day, Asuna logged out and went to have dinner with her mother. During the meal, Asuna's mother, Yuuki Kyouko, told Asuna that she wanted her to transfer to a more proper school. After a lengthy conversation about it, Asuna returned to her room and thought about how she wanted to stay by Kazuto's side and how she was only able to fight for herself in the virtual world. The next day, Asuna met with Kirito on the 24th Floor of New Aincrad. As the two saw a rabbit that reminded them about the Ragout Rabbit, they recalled the time when Kirito first came to Asuna's house in Selmburg. They then noticed players flying to the island where Absolute Sword was holding their duels. After Kirito told Asuna that Absolute Sword was strong, she asked him what he had said to them during their duel. Kirito explained that he had asked them whether they were truly living in the virtual world. As Kirito finished sharing his impressions of the mysterious player, they were interrupted by Leafa, Lisbeth and Silica, who reminded them that Asuna had a duel to get to. At the island, Asuna found out that the mysterious player was actually a girl named Yuuki. Pushed by Lisbeth, Asuna challenged Yuuki and soon found out how skillful she was. Deciding that she would not give up, Asuna went full out. As the battle raged on, Asuna punched Yuuki while their swords were crossed and then used the window to activate a rapier Sword Skill, Quadruple Pain. To her surprise, Yuuki skillfully managed to block her fast attacks and then activated her own Sword Skill. Suffering heavy blows, Asuna activated her Original Sword Skill, Starry Tear. However, while she had used up her last attack of Starry Tear, Yuuki's Sword Skill was still ongoing. Although Asuna was prepared to be defeated, Yuuki stopped the attack just before it reached her. Yuuki then stated that she was satisfied with the duel and gave her hand to Asuna. Yuuki then took Asuna to outside Aincrad where she asked for her help.
20
The Sleeping Knights [47]
Surīpingu Naitsu (スリーピング・ナイツ)
November 22, 2014
August 22, 2015
After Yuuki took Asuna to an inn in Ronbaru, she introduced her to the other members of the Sleeping Knights: Jun, Nori, Siune, Talken and Tecchi. Yuuki then told her that the guild wanted her help in defeating the next Floor Boss with just one party. Siune explained that the group wanted to defeat the boss in order to etch all of their names on the Monument of Swordsmen, as they would not be able to adventure together after winter and thus decided to make a memory that they would never forget. After some thinking, Asuna agreed to help and meet with the Sleeping Knights the next day. Some time later, while Asuna was walking at the Teleport Gate plaza, she was disconnected from the game by her mother who then told her that she was late for dinner. After an unpleasant conversation with her mother, Asuna headed to a park in another residential area. There she considered calling Kazuto, but decided that she did not want to expose her weakness to him. The next day, she met up with the Sleeping Knights and they easily managed to reach the boss room. However, Asuna detected several players hiding near the boss room. As the players claimed that they were just waiting for their friends, the group entered the boss room. But, during the battle, Asuna noticed that the party were actually spying on their battle to study the boss without sacrificing their own men. After the Sleeping Knights and Asuna respawned in Ronbaru, Asuna told the others what she had discovered and they decided to rush to the boss room again before the guild they encountered had enough time to gather a raid group. Although the guild had not managed to prepare yet, there were enough players gathered at the boss room door to seal off the area. As the guild rejected the request of the Sleeping Knights to let them try again, even though the large guild was not yet ready, Yuuki declared that they would fight it out and assaulted the raid group's leader. At that point, the rest of the boss raiding guild came to the scene, but then Kirito who was following them ran past them via a wall and blocked their path.
21
The Monument of Swordsmen [47]
Kenshi no Hi (剣士の碑)
November 29, 2014
August 29, 2015
After Kirito blocked the raiding guild's reinforcements, three mages of guild fired multiple magical projectiles at him. However, he used «Deadly Sins» to break all seven projectiles. As the reinforcements got into formation for battle, Kirito told Asuna that he would hold them off for three minutes with the help of Klein. In the meantime, the Sleeping Knights engaged the guild's forces blocking the path to the boss room. But, seeing that their assault was rendered useless by the intervention of the guild's healers, Asuna asked Siune to manage the healing herself and used «Flashing Penetrator» to break through to the healers, while killing the group's leader. After the healers were disposed of, the remained of the players were easily defeated, allowing Asuna and the others to enter the boss room. During the boss battle, Talken's spear was thrown into the air by the boss and it accidentally hit a crystal where the boss's two heads connected. Seeing that this caused the boss to assume a guard stance, Asuna deduced that it might be its weak point and tested it out by firing several ice pillars at the same spot. Confirming her deduction, Asuna left the healing to Siune to tell Yuuki to use a Sword Skill at the weak spot. Following Asuna's suggestion to use Tecchi as a stepping stone, Yuuki defeated the boss with her signature Original Sword Skill. After the battle, the group agreed to celebrate at Asuna's player home. While conversing about various things, Asuna asked whether she could join the Sleeping Knights, but, seeing that it resulted in an unpleasant reaction, she decided to change the topic and reminded everyone about the Monument of Swordsmen. At the monument, everyone took a picture and Yuuki accidentally called Asuna as her elder sister. Since she had also done the same in the boss room, Asuna pointed this out to Yuuki. Unexpectedly, Yuuki started crying and abruptly logged off.
22
The End of the Journey [47]
Tabiji no Hate (旅路の果て)
December 6, 2014
September 12, 2015
Three days after Yuuki abruptly logged out from ALfheim Online at the Monument of Swordsmen, Asuna met with Siune at the Ronbaru inn to ask what happened to Yuuki. Siune informed her that they were not able to contact Yuuki either and explained that Yuuki most likely did not want to see Asuna for her sake. After a short conversation, Siune abruptly logged out, asking Asuna to forget about them. At school, Asuna was messaged by Kazuto to meet at the rooftop. There, Kazuto asked Asuna if she really wanted to see Yuuki despite the Sleeping Knights asking her not to. After Asuna confirmed this, Kazuto gave her the address for a hospital where a medical FullDive machine, the Medicuboid, was being tested. At the hospital, Asuna asked the nurses if she could meet a patient named Yuuki, but, as just the name was not enough, Asuna explained that Yuuki was the person testing the Medicuboid. A senior nurse immediately reacted and asked for Asuna's name and then asked her to wait at a bench. Several minutes later, Asuna was approached by doctor Kurahashi, Yuuki's doctor. Kurahashi took her to a lounge upstairs to talk. He then expressed his surprised that Asuna was able to find the hospital and told her about the Medicuboid and that it was expected to be used for patients in terminal care. Kurashi then told Asuna that Yuuki allowed him to tell Asuna about her, but claimed that Asuna might regret hearing it. As Asuna asked him to continue, Kurahashi took Asuna to the room next to the Medicuboid testing room and explained that Yuuki was suffering from the Acquired Immunity Deficiency Syndrome (AIDS) due to an infection via blood transfusion during a complicated labour. He then told her that Yuuki continued to fight the disease, but in the 4th school year, her immune system collapsed and she was hospitalised. After Asuna asked why Yuuki started using the Medicuboid, Kurahashi explained that he was the one who offered the testing to her to have her put in a clean room where she would not risk further infection. He also told her that Yuuki had been living inside the machine for three years straight, not returning to the real world at all. Asuna then asked whether Yuuki had a sister and found out that her elder twin sister had passed away the year before. Seeing Asuna cry, Yuuki used the speakers connected to the Medicuboid to tell Asuna not to cry and to ask her to meet at the place where they first met in ALfheim Online. Asuna used the AmuSphere in the next room to log in to the game and rushed to Yuuki's location. There, the two talked and Asuna heard that Yuuki had a wish of going to school again. Suddenly, Asuna came up with an idea of how Yuuki could go to school.
23
The Dream Begins [47]
Yume no Hajimari (夢の始まり)
December 13, 2014
September 19, 2015
On January 12, 2026, the day after Asuna reunited with Yuuki, Kazuto and two other mechatronics course students were working on tuning Kazuto's Bidirectional Communication Probe for Yuuki to use to take part in the lessons at the SAO Survivor School. As lunch break was almost over, Asuna asked the boys to hurry up. After the tuning was completed, Asuna took the shoulder-mounted probe to the faculty office to introduce Yuuki to the teacher of the upcoming lesson. Asuna then took Yuuki to class, where she soon became the centre of attention. As the lesson began, everyone took their seats and Yuuki was asked to read a passage. After the end of the lessons, Yuuki thanked Asuna for the opportunity to visit a school, but Asuna told her that she could come to school every day with her. Asuna then asked Yuuki whether there was any place that she wanted to go to as well and Yuuki answered that there was one place that she wanted to visit. As requested, Asuna took Yuuki the old Konno residence. As Asuna still had some free time, Yuuki talked about the memories she had at the house and also mentioned that the house would be torn down soon, so Yuuki wanted to see it one last time. Asuna then suggested that when Yuuki turned sixteen, she should marry someone she liked to have the person protect her home. Yuuki laughed and said that she did not have anyone that she would want to marry, but then made a joke proposal to marry Asuna and asked her to be the wife so that she would not become Yuuki Yuuki. After the joke, Yuuki thanked Asuna again and said that by seeing her house she realised how her mother had been surrounding her with her feelings. Asuna then told Yuuki about the relationship she had with her own mother and asked Yuuki how to be as strong as her. However, Yuuki claimed that she was not strong, but she did not feel like she had time to waste, so she would always be honest with her feelings. As Yuuki recommended Asuna to talk with her mother and share what she felt, Asuna decided to show her world to her mother by asking her to use an AmuSphere. Reluctantly, Kyouko agreed and used Asuna's sub account to log in. In the Forest House, Asuna showed her mother the view outside the house, reminding Kyouko about the home of her parents. Asuna then reminded Kyouko about the time when the whole family went to Kyoto, while Asuna went to Kyouko's parents' home instead. Asuna told Kyouko that her parents were not angry that Kyouko did not come to visit them. Instead, they told Asuna that Kyouko was their treasure and how they were happy with how well Kyouko was doing, but they would protect their home so that Kyouko would have a place to return to if she got tired. Asuna then finished by saying that she lately realised how life was not about just doing things for oneself and how the happiness of others could make one happy as well, thus she wanted to remain in her current school where she could support the ones she loved. The next morning, Kyouko told Asuna that if she planned to support someone, she had to be strong herself, thus she would have to work hard on her grades to get into university and whether Asuna would have to transfer would depend on her progress.
24
Mother's Rosario
Mazāzu Rozario (マザーズ・ロザリオ)
December 20, 2014
September 26, 2015
Three days after Asuna talked with her mother, Asuna held a barbecue at the Forest House. During the barbecue, Jun brought up that they could beat the 28th Floor boss and the enthusiastic group decided to take a tour through the 28th Floor Labyrinth where they ended up beating the boss. Over the following months, Yuuki continued to attend classes at the SAO Survivor School, the fairies had a race in Alfheim, the Sleeping Knights and Asuna defeated the 29th Floor boss, a swordsmanship tournament was held in ALfheim Online which Yuuki won after a fierce battle with Kirito, Asuna kept her promise and worked hard on her grades, and organised a trip to Kyoto, with all the members of the Sleeping Knights using Kazuto's probe to take part in the trip. However, near the end of March, Asuna received a message from Kurahashi that Yuuki's condition was worsening. Asuna rushed over to the hospital, but found out that Yuuki's condition was critical and that nothing more could be done. While holding Yuuki's hand, Asuna realised that Yuuki wanted to return to the virtual world, thus she asked Kurahashi to allow her to FullDive. On the 24th Floor, at the island where Asuna and Yuuki first met, Yuuki created a scroll for her Original Sword Skill and passed it to Asuna in hopes that it will protect her. Just then, the members of the Sleeping Knights arrived to cheer Yuuki in her final moments. The Sleeping Knights were followed by Kirito, Klein, Leafa, Lisbeth, Silica, Sinon and Yui. Finally, a large group of fairies of various races gathered at the island and Asuna revealed that she had notified everyone so that Yuuki would not have a lonely farewell. Yuuki then told Asuna how she had always asked herself what was the reason for her living if she was destined to die anyway, but then said that she had found the reason, as her last moments were truly fulfilling. After Asuna promised to meet her in another world, Yuuki peacefully passed away. A week later, at Yuuki's memorial, Asuna met with Siune whose condition was improving. After they talked about Yuuki, Kazuto and Kurahashi joined their conversation. As Kazuto and Kurahashi explained that they were talking about Kazuto's probe's application for medical FullDive technology, Asuna asked about the tests for the Medicuboid. Kurahashi revealed that Yuuki had provided more than enough data and claimed that Yuuki should get a reward like the person who provided the initial designs. As Asuna was surprised that the Medicuboid designs came from an external helper, Kurahashi revealed that the helper was Koujiro Rinko. The shocked Kazuto then revealed that Rinko was the person who took care of Kayaba Akihiko during the SAO incident, thus the Medicuboid designs actually came from Akihiko. Some time later, the group had a picnic.
Alternative "Gun Gale Online"
[
]
No.
Title
Original Airdate
English Dub Airdate[citation needed]
1
Squad Jam
Sukuwaddo Jamu (スクワッド・ジャム)
April 7, 2018
On February 1, 2026, the first ever Squad Jam, a team-based iteration of the Bullet of Bullets tournament, was about to be held in Gun Gale Online. Participating in this low attention tournament were twenty-three teams of two to six members. One such team was LM, consisting of only two members: the team leader LLENN, a girl clad entirely in pink, and her partner named M, a burly veteran. Once the tournament began at 14:00, LLENN and M found themselves in the midst of a forest at the upper-right corner of the map. After confirming their position on the map and having LLENN dress in a green poncho to reduce her conspicuousness, M decided that they should head for the urban area to the south. After ten minutes of travelling through the forest and reaching the boundary between the forest and urban area, the two stopped to inspect their Satellite Scan Terminal for the position of other teams, revealed every ten minutes. At that point, LLENN noticed another team, ZEMAL, across the road. Although M assured LLENN that the enemy team would not be able to engage in combat from a distance that exceeded two hundred metres, to LLENN's surprise, ZEMAL blindly opened fire at her with their machine guns. Per M's instructions, LLENN held her position behind a tree to protect herself from the gunfire for several minutes, until the members of ZEMAL were abruptly eliminated by Narrow, a team of pros who had been nearby. As the flashy battle attracted three other teams to the battlefield, LLENN and M used the cover of the commotion to dart along the highway to a nearby residential area after the following satellite scan. After defeating the survivors of the battle that ensued, Narrow discovered that the only enemy close to them was LM during the following scan. Desiring combat experience, rather than winning the tournament, Narrow decided to pursue LM to the residential area. Ten minutes later, the leader of Narrow checked the next satellite scan, discovering, to his surprise, that the enemy was only eighty metres away. Despite attentively surveying the area, however, none of the team members were able to locate the threat. Just when the team's leader realised that LLENN had been hiding in a suitcase that had been lying on the road, the pink girl suddenly assaulted his men, eliminating the four vanguards in a matter of moments, before retreating from the area. Deciding that LLENN was too inhuman for any further battle against her to be useful to them, the leader of Narrow had his team resign from the tournament. Two weeks later, on February 15, the members of SHINC, a group of girls that had also participated in the tournament, finished watching a recording of the battle at the house of Kohiruimaki Karen (LLENN) in the real world.
2
GGO
April 14, 2018
In April 2025, nine months before the first Squad Jam, Kohiruimaki Karen, an exceedingly tall girl, moved from her hometown Hokkaido to study at a women's university in Tokyo. Although Karen was expecting to bring some change to her life by moving to a different city, she had no luck making new friends or socialising more than she did in Hokkaido, nor was she able to get a part-time job due to her parents' wishes, thus leading an uneventful life. Several months later, in August 2025, while staying at her parents' house for her summer vacation, Karen saw a news segment about virtual reality games. Interested in the reporter's statement that such games offered a life different from reality, Karen arranged a meeting with her Hokkaido friend who was a gamer, Shinohara Miyu, to learn more about them. Under Miyu's advice, Karen bought an AmuSphere and a copy of ALfheim Online as soon as she returned to Tokyo, and installed the game when she returned home. However, upon logging in to the game, Karen found that the height of her randomly created avatar, LLENN, was not much different from Karen's own, causing her so much shock that she was forcefully logged out of the game by the AmuSphere due to her increased heart rate. As The Seed games did not allow players to choose the appearance of their characters and Karen was reluctant to create a new character in ALfheim Online due to the shock she had endured, Miyu taught her about character conversion, which allowed transferring the player's account from one game on The Seed network to another. From that point on, Karen began converting her account from game to game, without even checking their genre, but became dissatisfied with the avatar she obtained in each of them. After thirty-six of such failed attempts, she eventually acquired a very short and cute avatar by converting her account to Gun Gale Online. Elated at obtaining an avatar of her dreams, LLENN decided to take the tutorial, thus learning about the game's mechanics and weapon types. After spending a month enjoying the game, LLENN decided to customise her apparel to look more cute. Although at first disheartened at the lack of cute items at a store, LLENN noticed that she could change the colour of her apparel and thus decided to dye all of it, as well as her gun, pink. One day, while waiting for a monster to trigger her grenade trap, LLENN spotted three players approaching her position. As LLENN lay on the ground at a loss on what to do, the players passed by without noticing her presence, due to her pink outfit blending in with the pinkish shade of the sand caused by the abnormal sunlight in Gun Gale Online. Fearing that the players would kill her if they spotted her, once they were alerted to the presence of other players in the area via an explosion caused by her trap, LLENN decided to attack them before they could find her, defeating all three of the players in a surprise attack. Ever since learning that her outfit allowed her to blend in with the desert sand and assault players by surprise, LLENN began engaging in surprise attacks in the desert whenever she saw a relatively safe opportunity, causing players to spread rumours about the so-called Pink Devil . One day, while moving through the desert, LLENN was ambushed herself by a female player named Pitohui, who had become interested in the rumours on the Pink Devil and decided to discover what they looked like. Having learnt that the Pink Devil was a girl, Pitohui invited her for some tea in town and proposed becoming friends, as there were few girls playing the game. After a friendly discussion in town, the two girls registered as friends and, as LLENN was looking for a new gun, Pitohui led her to a shop that specialised in rare items, where LLENN decided to purchase a P90, which she later named P-chan, due to liking its appearance. Since that day, LLENN and Pitohui formed a two-person squadron and went hunting monsters whenever they had time. During one of such meetings, LLENN began talking about real world topics. This conversation led to the two girls vowing to fight each other one day, with Pitohui promising to meet LLENN in real life if the little girl won their battle. Some time later, following the New Year, Pitohui asked if LLENN had ever heard about the Squad Jam tournament.
3
Fan Letter
Fan Retā (ファンレター)
April 21, 2018
Following Pitohui's introduction of what the term "Squad Jam" meant, LLENN and Pitohui left the saloon and departed to the fields outside of town. While setting up a trap for a local monster, Pitohui explained that two players had formed an alliance during the third Bullet of Bullets tournament in the game, and their teamwork was so exciting to watch that it inspired the creation of Squad Jam, a team-based competition. Upon finishing her explanation on the background for the tournament, Pitohui moved to her intended main topic - urging LLENN to take part in the competition by forming a team with one of her acquaintances, as she herself would be unable to participate that day. As LLENN had her reservations about participating in a team battle with only a two-member team, Pitohui voiced her observation that something seemed to be bothering LLENN in the real world, and thus offered using the Squad Jam to vent her frustrations. Some time later, back in the real world, Kohiruimaki Karen called her friend, Shinohara Miyu, for advice on the matter. While Miyu recommended taking the opportunity to have fun, she then remembered that Kanzaki Elsa's concert would be taking place that day. As the two girls were planning to go to the concert if they managed to acquire tickets but Miyu claimed that her odds of getting the tickets were fifty-fifty, Karen decided to entrust her decision to fate and register for the Squad Jam if Miyu did not manage to get tickets for the concert. The next Tuesday, on January 27, 2026, the day before the deadline for registrations to the Squad Jam tournament, after passing by a group of girls and becoming annoyed when she heard them call her tall, Karen received a call from Miyu. As her friend informed her that she was unable to obtain the concert tickets, Karen decided to participate in Squad Jam. Three days later, on January 30, LLENN met with Pitohui at a saloon to discuss about the tournament that would be taking place two days later, as well as meet the person she would be teamed with. After the two girls discussed some of the rules of the tournament and how to make use of them, Pitohui's acquaintance, a large man named M, came into their private room. Once LLENN's new partner was introduced, Pitohui excused herself due to having errands to attend to, leaving LLENN and M alone. As Pitohui had not explained the reason for the two meeting with each other that day, M revealed that he wished ascertain LLENN's combat skills. Thus, he took her to a training field to have her undertake various combat readiness tests to evaluate her capabilities. At the end of his tests, M showed his gear to LLENN and taught her how to use his pistol, including how to activate the safety, in case such a need arose at some point. The following day, upset about Elsa holding her concerts at small venues, Karen suddenly decided to write a fan letter to her favourite singer. In her letter, Karen wrote about her complex regarding her height, which robbed her of her courage and prevented her from making new friends. She also wrote about her coming to play virtual reality games, thinking that she could improve her social skills by playing with an avatar different from her real appearance. After describing the appearance of her in-game avatar and the world she started playing in, Karen closed her letter by asking Elsa to choose a bigger venue for her next concerts, before signing it with her name and address. On the day of the tournament, M shared with LLENN the fact that he had received a letter from Pitohui, urging him to win the tournament, to which he had responded that he would do his best but would possibly surrender if his partner were killed. Just as M finished his speech on a lighter note by offering LLENN to enjoy the battles to come and see how far they could go, the appointed time for the tournament preparations began and the two were teleported to a standby room. During the ten minutes they had before the competition began, M offered his knife to LLENN as a spare weapon, in case she became unable to use her main weapon, and taught her the most efficient ways of using it. At the end of M's lecture, the two prepared to enter the battlefield.
4
Death Game
Desu Gēmu (デスゲーム)
April 28, 2018
Having dispatched four members of Narrow and made her retreat, LLENN learnt from M that the two remaining members had resigned, ending the battle in their victory. In order to regroup with her partner, LLENN was guided through a highly-complicated route by M via her earpiece. Thus, upon finally reaching her destination, LLENN expressed her surprise at M's navigational abilities. After explaining that this was the result of his good sense of geography since childhood, M displayed the map of the battlefield to see the results of the 14:50 scan. Having seen that only two other teams remained, one in the desert five kilometres away and another one closer but beyond a lake, M concluded that they would be unable to reach their enemies within ten minutes and decided to proceed along the waterfront until the next scan. However, at 14:54, just two minutes after the two left their temporary safe house, M spotted a group of enemies, named MMTM, approaching them on hovercrafts via the lake. As the hovercrafts would be able to follow them on land, rendering their escape futile, LLENN proposed acting as a decoy to give M the chance to hide. However, while M praised the idea, he instead decided to deploy a highly-impenetrable shield, made from the armour plates of a space battleship, to safely counterattack with his sniper rifle. Having LLENN distract the enemy during their next attack, M began sniping them one-by-one, keeping his finger away from the trigger until the very moment he fired to ensure that his opponents would be unable to make use of the Bullet Line assistance system. As such, M was able to kill five of the six members of MMTM without them being able to avoid his bullets. As M was unable to reach his final target, he threw a powerful type of plasma grenade into the water. Just as the hovercraft reached the spot where the grenade fell into the water, the explosion created a large wave that sent the survivor into the air. Upon the man landing on the ground, LLENN completed the job by shooting him at point-blank range under M's order. Moments later, with LLENN having deduced how M was able to dispatch his enemies so easily, M notified LLENN that the next scan was about to begin. When LLENN expressed her astonishment that only an hour had passed since the tournament began, M was about to investigate the contents of a letter from his pocket, before deciding to focus on the scan first. Just as the slow scan reached the position of their team, LLENN and M noticed, to their shock, that their final enemy, SHINC, was merely six hundred metres away from them. At that very moment, LLENN was sniped in her right flank. As LLENN barely survived the attack and was still disoriented after being flung into the air by the bullet, M immediately grabbed her body and carried her into a nearby hovercraft, using the vehicle to escape their enemy's firing range. Having temporarily gained distance from their opponents, M decided to travel to the south-western wasteland, as he doubted whether they would have enough fuel to reach the marshlands instead. Once on shore again and having restocked on her ammunition and grenades from her inventory, LLENN remembered that M had planned to read a letter after the scan. Reminded about the message, M revealed that he had been told to read it at 15:00 and thus, while LLENN kept watch on their surroundings, he began inspecting the letter. To LLENN's surprise, however, upon finishing the letter, M aimed his pistol at LLENN, apologising for what he was about to do. Reacting quickly, LLENN was able to avoid the bullet and move close enough to M to touch his gun. When M attempted to fire at LLENN again, he discovered that she had engaged the safety on his pistol, preventing it from firing. With her muzzle now aimed towards M at point-blank range, LLENN demanded to know why he had tried to dispose of her. After several moments of maintaining silence, M fell on his knees, desperately begging for his life with a tear-strained expression.
5
Leave the Last Battle to Me
Rasuto Batoru wa Watashi ni (ラストバトルは私に)
May 5, 2018
5.5
Refrain
Rufuran (ルフラン)
May 12, 2018
A summary episode of the 1st Squad Jam arc with some joke scenes after the credits.
6
SAO Loser
SAO Rūzā (SAO

失敗者

)
May 19, 2018
On February 11, 2026 LLENN logged into Gun Gale Online for the first time in the ten days following the end of the first Squad Jam tournament. By searching through various back alley gun shops, LLENN was able to find one with a P90 in stock and immediately purchased the gun. Four days later, on February 15, Karen invited the members of SHINC, her new friends from Gun Gale Online, to her apartment. There, the girls decided to rewatch the highlights of the tournament, using the opportunity to introduce their in-game avatars to Karen. In-between the highlights, Saki and the other girls explained that they had chosen to play games as a way to improve their relationship with each other, as their lack of teamwork had been hindering their training for their gymnastics club. Feeling that Gun Gale Online was entirely detached from their reality, the girls began playing the game, hoping that a shared goal and a change of scenery would help them overcome their differences. The girls soon became engrossed in the game and, through their many near-death experiences there, learnt to work together. Upon finishing her story, Saki proclaimed that their club would do their best to prepare for a possible second Squad Jam, and asked if Karen would also be participating. Karen, however, showed no desire to take part in a possible second tournament, disappointing the girls who had hoped to have another showdown with her. Several days following SHINC's visit to her apartment, Karen returned to Hokkaido to visit her parents. There, on February 24, she met with Shinohara Miyu, her long-time friend in Hokkaido, for karaoke. At the karaoke box, the girls talked about Karen's performance at the Squad Jam tournament, including what had happened with M. eassuring Karen that she had nothing to be concerned about as long as Karen's former partner did not have her personal information, Miyu recalled her loss to another hardcore gamer in ALfheim Online the other day, and noticed that the karaoke had a new Kanzaki Elsa song. While commenting about Elsa's temporary break from singing, Miyu loaded Elsa's new song for the karaoke. Several weeks later, on a flight back to Tokyo, Karen received an email from Zaskar, the Gun Gale Online administrators, that a second Squad Jam tournament would be held on April 4. Having read the notice, as well as Saki's message about it, in detail on her way back to her apartment, Karen decided that she had no need to participate in the upcoming tournament. Some time later, upon entering her apartment complex, Karen was approached by a young man who introduced himself as M and requested to speak with her in private, claiming that someone would die on the night of the second Squad Jam if he did not receive her help. Not wanting to bring the man to her own apartment, Karen led him to an observation room in the building for privacy during their conversation. After properly introducing himself as Asougi Goushi, the man immediately requested Karen's assistance to prevent Pitohui and himself from dying in real life. Goushi, thus, explained that Pitohui was planning to take part in the second Squad Jam and force him to commit suicide with her if they were to be killed in-game during the tournament. He elaborated that Pitohui was obsessed with death, yet, despite being a Sword Art Online beta tester, she had to reluctantly refrain from playing the game on the day its official service began due to a real life matter that was so important that it would affect the rest of her life. Thus, the girl had a grand outburst of rage when she discovered that the opportunity to take part in a death game had eluded her grasp as a result of her decision. Although Pitohui was able to suppress her rage by focusing on her work and other virtual games, she was never able to feel satisfied by them. Thus, she suffered two relapses of her emotional outbursts: the first was when Sword Art Online was cleared and she learnt that she had missed instances of player-killing incidents in the game, followed by a second one when her real life obligations prevented her from taking part in the first Squad Jam. This was why Pitohui decided to stake her life in the upcoming Squad Jam as a way to compensate for the opportunities she had missed. At the end of his explanation on the situation, Goushi stated that he wanted to prevent Pitohui from dying but did not want to interfere with her wishes due to his love for the girl forcing him to respect her decisions. Thus, he came to plead Karen to participate in the tournament and defeat Pitohui in proper battle during the event to fulfil the promise Karen had made with Pitohui as LLENN. Having recalled the promise, Karen agreed to participate in the tournament and defeat Pitohui. That evening, Karen was contemplating on whom she could ask to participate in the tournament with her to be able to form a team, when she suddenly received a call from Miyu. As her friend was an experienced gamer, Karen decided that she would be the perfect person for the job. Upon Karen explaining the situation and pleading for her help, Miyu gladly accepted the opportunity to demonstrate her skills in a new game.
7
Second Squad Jam
Sekando Sukuwaddo Jamu (セカンド・スクワッド・ジャム)
May 26, 2018
On March 17, 2026, Miyu converted her avatar Fukaziroh from ALfheim Online to Gun Gale Online in order to assist LLENN. While Fukaziroh's avatar had significantly high stats due to the conversion, she was not able to convert her items or money and thus did not have enough funds to purchase proper gear. Under Fukaziroh's proposal, Karen contacted Goushi, who agreed to provide some money in the form of a dead drop to avoid leaving any logs about the transaction. Having retrieved an unexpectedly large amount of credits from the dead drop, the girls went to a general weapon store to purchase Fukaziroh's gear. As the golden-haired girl was very particular about the appearance of her weapons, LLENN decided to lead her friend to a rare item store instead, in the hopes of satisfying her needs. To her shock, however, Fukaziroh impulsively bought not one but two expensive MGL-140 grenade launchers before LLENN was even able to protest. After acquiring the rest of Fukaziroh's gear, including a set of armour, a side arm, and a knife hairpin, the two girls began training against monsters in the field. Several days later, on March 24, 2026, after dispatching a group of armadillo-like monsters with Fukaziroh's help and just before registering their team for the tournament, LLENN informed her partner about having created a new tactic for them to use during the tournament. The next day, while getting dressed at their school's locker room, the members of SHINC held a strategy meeting regarding their need to acquire a strong weapon to counter M's shield during the second Squad Jam. Just as the meeting was concluded, the girls were excited to learn from a notification that LLENN had entered the tournament. Several days later, on April 3, while the preliminaries for the non-seeded teams of the Squad Jam was underway, Fukaziroh and LLENN reviewed the rules for the tournament, as well as a change from the previous tournament that would allow them to identify specific teams during a satellite scan, making it easier to find Pitohui's team, named PM4. Upon finishing their strategy meeting, LLENN shared her doubts about being capable of defeating Pitohui with Fukaziroh. Being comforted by her partner not to worry ahead of time, LLENN thanked her friend for her help and offered to return the favour as best as she could. The next day, as team after team gathered for the tournament, PM4 arrived at the venue with four mercenaries that filled the empty slots in their team. While observing the Pitohui, MMTM's leader David recalled his time in a team with her at the beginning of Gun Gale Online, explaining to his team that Pitohui was as dangerous to her allies as to her enemies, as she had no qualms with using her teammates as shields and endangering their lives by using grenades next to them, which is why he distanced himself from her. Warning his comrades to regard PM4 as the most unpredictable team, David added that Pitohui's name came from the name of a bird that was so poisonous that merely touching it could kill people, which, he believed, perfectly described the woman using such a name. Meanwhile, as Miyu was afflicted with a case of diarrhea due to eating too much ice cream moments before logging in, Fukaziroh and LLENN barely managed to reach the venue in time for the event. Just before the players were teleported to their waiting rooms, LLENN was approached by Pitohui, who congratulated the girl on her previous victory. In response, LLENN declared that she would do her best during the upcoming battles and thus expected Pitohui to keep the promise the two of them had made in the past, before the two parted. Moments later, having been teleported to the waiting room, Fukaziroh and LLENN equipped their gear and prepared for the upcoming battle.
8
Booby Trap
Būbī Torappu (ブービートラップ)
June 2, 2018
With the beginning of the Second Squad Jam tournament, Fukaziroh and LLENN found themselves in a residential area in the north-western corner of the battlefield. After examining the map of the battlefield, the two decided to establish a safe position in the area and wait for the first satellite scan to find Pitohui's location and assess their surroundings. Ten minutes into the tournament, the first scan began, revealing that the favourites of the tournament were intentionally placed in the four corners of the map to prevent them from clashing prematurely. As various teams used the results of the scan to formulate their strategies, LLENN was shocked by the revelation that Pitohui's team was positioned at the exact opposite corner of the battlefield. After being comforted by Fukaziroh, LLENN decided that their team would head south-east, eliminating any enemies that obstructed their path. Several minutes later, LLENN detected six players in a circular formation in the middle of the road. As the players had yet to notice their presence, Fukaziroh began moving into a position to assault their targets with a grenade attack. However, the girl accidentally triggered a grenade wire trap while en route, causing an explosion that robbed her of her legs. With her comrade now incapacitated for the following two minutes, LLENN dragged the injured girl to a nearby house for cover. Ignoring her partner's request to abandon her, the pink girl assaulted the enemies that were drawn to the scene by the explosion. Using her speed, and the corpse of a fallen enemy as an impenetrable shield, LLENN quickly dispatched five of the assailants. As the girl dodged the attacks of her last opponent, Fukaziroh joined the battle, using one of her MGL-140 grenades at close range to kill the player without causing an explosion. While multiple battles were underway throughout the battlefield, Pitohui was disappointed in the lack of action on her team's side. Despite her incessant complaints, M maintained the order to hold position on the mountain and avoid trivial battles, claiming that it was part of his plan. Reluctantly, Pitohui agreed to follow the order, reassured that M would let her enjoy the formidable opponents, such as LLENN. Meanwhile, with Fukaziroh's legs returned to their original state, the two members of LF observed the following satellite scan. As another team had taken positions at a nearby railroad, LLENN decided to focus on them next. At that moment, in order to atone for her blunder, Fukaziroh proposed a strategy that would allow them to eliminate the enemy team without engaging them directly. Minutes later, Fukaziroh began firing grenades at their latest target. While the first grenade missed its target, the girl was able to adjust the trajectory of the following shots based on feedback from LLENN, who informed her how far the grenades had landed from their target by observing the situation from a vantage point. Due to their joint effort, the two girls were able to easily dispatch their foes. Having regrouped at the train station, LF observed the following satellite scan, learning that seven teams near Pitohui's position were close to each other without engaging in battle. LLENN quickly deduced that the squads had formed an alliance, sending their main force against PM4 while the leaders remained at the base of the mountain to conceal the position of the other members. As various teams reacted to the revelation of this tactic in their own ways, LLENN began rushing to the dome to the southeast of the station in an effort to come to Pitohui's aid; however, she soon realised that she would be unable to reach PM4 in time. Meanwhile, Pitohui herself was overjoyed with the news of an alliance being formed against her team, deciding to ambush and massacre all of the assailants on the mountain.
9
Ten-Minute Massacre
Juppun-kan no Ousatsu (十分間の鏖殺)
June 9, 2018
Following the directions of their leaders, the main force of the seven team alliance arrived at a valley with a waterfall, the place where the satellite scan had indicated the position of PM4. As their targets were nowhere to be seen in the valley, the teams deduced that M's squad was hiding beyond the waterfall, thus the leaders of the alliance ordered their teams to open fire towards it. However, the only one hiding behind the waterfall was M, who used his shield to avoid most of the bullets. When several players climbed up to investigate his hideout, M used two plasma grenades to expel the scouts, prompting a new barrage of bullets from the remaining assailants. As all the players focused on the waterfall, PM4's mercenaries dispatched the lookouts above the valley, just before Pitohui entered the battlefield, ordering her teammates to limit their support during the battle. Without bringing any of her own armaments, the woman assaulted the distracted players, dispatching them one after another with hand-to-hand combat and their own weapons. Within mere moments, the massacre had nearly drawn to an end, leaving only two players from the opposing teams alive. Since one of the two remaining players was preoccupied with keeping his incapacitated comrade from falling into the water, Pitohui took the opportunity to toy with her prey, before ending their lives with a grenade. Moments later, Pitohui used her M107A1 anti-materiel rifle to quickly dispatch the leaders of the seven teams from the mountains without giving the time for most of her opponents to react, only one of them managing to resign before she could kill him. Meanwhile, during the massacre that took place on the mountain, Fukaziroh and LLENN had entered the dome in order to avoid confronting SHINC and MMTM by circling the dome from outside. Thus finding themselves in a field of tall grass, the two girls were crossing the dome by hiding in the grass to avoid being detected, using Bullet Lines to keep track of their course without having to leave their cover. Suddenly, the two girls heard gunfire in the distance coming from the three other teams within the dome. However, based on the unusual orderly nature of the gunfire, LLENN quickly realised that the three teams were actually conspiring against them, working together to imitate a battle in hopes of luring the previous SJ victors into a trap. Although LLENN planned to avoid the three teams entirely, she unexpectedly encountered a group of scouts, forcing her team to reveal her team's position to dispatch them. This resulted in Fukaziroh being suppressed by the remaining enemy force, prompting LLENN to resort to their secret plan. Just as LLENN removed her camouflage poncho, Fukaziroh fired several smoke grenades, covering the area in pink smoke. Using the cover of the smoke, the pink devil easily dispatched player after player without being seen, while Fukaziroh extended the duration of the smokescreen by firing more grenades. When Fukaziroh decided to investigate her surroundings after depleting most of her grenade stock, an enemy nearby attempted to pounce on her but his attempt resulted in him tripping and falling to the ground. Although the girl immediately targeted the attacker with her side arm, her poor accuracy with the handgun resulted in her missing every single shot. Having regained his confidence at that moment, the player gleefully shared his plan to grope Fukaziroh's immobile avatar after killing her, causing the girl to use a nearby gun in lieu of a sword to beat the harasser to death. In the aftermath of the battle, LLENN counted the corpses, discovering that there was one corpse less than expected. Struck by a hunch, LLENN fired at a pile of corpses, causing the last enemy to reveal themselves. Wanting to conserve her remaining ammunition, LLENN requested the player to resign. However, during their conversation, LLENN took notice of the player's spare ammunition pouches and demanded to know what was inside of them. Discovering that her opponent had magazines that could be used for her P90, the girl ordered the player to relinquish all of their spare ammunition. Reluctantly agreeing to the demand, the player suddenly requested a kiss from the pink girl as compensation for the cooperation. Although disgusted by the proposition, LLENN decided to comply with it due to feeling guilt over robbing a player. After materialising their spare magazines from their storage and receiving a kiss on the cheek in return, the player became overjoyed, unexpectedly revealing their gender to be female. The masculine woman, revealed to be named Clarence, offered the two girls to become friends and form an all-girls Squadron. To avoid continuing the conversation, LLENN decided to collect Clarence's spare magazines, when the woman suddenly tackled her, warning Fukaziroh to take cover. At that moment, Clarence shielded the pink girl from a hail of bullets with her body, sacrificing herself in the process. While retreating with Fukaziroh from a second barrage, LLENN realised that their new enemy was MMTM, the team that had achieved third place in the previous tournament.
10
The Devil's Comeback
Maou Fukkatsu (魔王復活)
June 16, 2018
Just as LLENN was about to be shot during her retreat, MMTM was assaulted by the members of SHINC, forcing them to leave the dome. Moments later, LLENN retrieved Clarence's magazines, thanking Eva for saving her. At that point, Eva offered LLENN to have their one-on-one duel; to her surprise, LLENN declined. As the pink girl found it hard to explain her situation, Fukaziroh interrupted the conversation, giving a brief overview of the issue with Pitohui. Concerned by what she heard, Eva asked LLENN to share more details about the matter with her. Meanwhile, Pitohui's team in the field area was approached by a team named KKHC with an offer of a temporary alliance. Despite the KKHC's men sharing how skilled they were with guns, Pitohui declined the offer, thus KKHC decided to leave on peaceful terms, maintaining a cease-fire until the next scan. However, while Pitohui promised that her men would not attack her, she did not guarantee that she herself would not. Thus, moments after KKHC had turned their backs to PM4, the woman opened fire at the helpless team, killing all but their only female member, Shirley, who managed to escape towards the snowy mountain area. Enraged by the betrayal, Shirley decided to make an exception to her principle of not shooting people, and thus armed herself to eliminate the woman. During the next scan, LLENN evaluated the situation of the tournament from her position at the dome, while SHINC, having moved outside the dome by then, prepared to assault PM4 in the vicinity of a nearby log house. Noticing the approaching amazons, M had Pitohui relinquish her anti-materiel rifle so he could intercept the attack with it. While slowly approaching PM4's position, SHINC deduced that M was employing a longer-ranged rifle based on the fact that M had deployed his shield earlier than anticipated. Thus, just as they came in range of being shot, the amazons immediately began charging in zig-zags, making it difficult for PM4's snipers to hit them. As SHINC continued advancing, M ordered his teammate to feint an attack against Anna with a Line, using it as a distraction to launch his own attack against her. At that point, the members of SHINC suddenly entered a prone position on the spot. To M's shock, after Sophie materialised a weapon from her inventory and sat down on a rock, she was killed by a shot from her own team's leader. Just a moment later, M barely managed to avoid a shot from Toma's PTRD-1941 anti-tank rifle as it hit the joints of his shield, flinging a plate of it at his teammate and killing him with the blow. While M's shield was disassembled plate after plate with each successive shot of the anti-tank rifle, the man's counterattacks could not reach his enemy, as Sophie's corpse served as a makeshift impenetrable shield for Toma due to the corpse mechanics of the tournament. Eventually, Toma managed to obliterate the shield, as well as damage M's weapon to an extent that rendered it unusable for the remainder of the battle, thus forcing M to retreat. With only seconds remaining till the following satellite scan as SHINC resumed their assault, Eva gave LLENN the signal to begin their actual plan: a pincer attack. While SHINC was distracting PM4 by attacking from the south, Fukaziroh and LLENN had left the dome and approached PM4's position from the north. Using her last smoke grenades, Fukaziroh provided cover for LLENN to safely reach her firing range and kill Pitohui in a surprise attack. However, en route to Pitohui, LLENN noticed a sniper in the vicinity planning an attack on PM4. At that moment, excited by the prospect of LLENN coming to fight her, Pitohui momentarily lost her vigilance, unintentionally giving the sniper, Shirley, the chance to launch her attack. Having successfully shot Pitohui in the eye, Shirley began prematurely celebrating her success, only to be eliminated by an attack from LLENN just moments later. Meanwhile, panicking due to the surprise attack on Pitohui, M rushed to her aid, applying a first aid kid on her. As Pitohui's hit points continued rapidly decreasing, M began losing hope in her survival, until he realised that she managed to survive the attack with just a sliver of her hit points left. Emotionally overwhelmed by her near-death experience, Pitohui lost consciousness moments later, yet avoided disconnection from the game. At that point, M ordered his team to retreat to the log house, taking Pitohui into his arms to carry her to safety. Meanwhile, just as LLENN made her decision to use the opportunity to kill Pitohui herself and was about assault PM4's position, MMTM arrived on the scene with Humvees, allowing them to safely reach and assault PM4 at the log house before the other teams could. While LF and SHINC stayed a safe distance away from the house to avoid the chaos, MMTM advanced towards Pitohui's position, eliminating PM4's mercenaries one by one as they attempted to stall for time. During that time, M resigned himself to death, preparing to detonate a plasma grenade to commit a double suicide with Pitohui as he gave her a kiss. The woman awoke at that very moment, throwing the grenade outside the window. While MMTM was distracted by the explosion just as they arrived to the upper floor, Pitohui launched her attack from beyond the wall, killing one of MMTM's members by shooting through a hole in the wall, the second with a shotgun blast through the door, and two more with a photon sword, before blowing the wall and revealing herself.
11
Psycho LLENN
Ikareta LLENN (イカれたレン)
June 23, 2018
12
Applause
Hakushu (拍手)
June 30, 2018
Alicization
[
]
No.
Title
Original Airdate[48]
English Dub Airdate[citation needed]
1
Underworld [49]
Andāwārudo (アンダーワールド)
October 6, 2018[48]
February 9, 2019[50]
On the 18th Day of the 7th Month of the Human Empire Calendar, Eugeo and Kirito, two eleven year-old children living in a village closest to the northern edge of the Human Empire, were hard at work at their Sacred Task. Their lifelong daily task was to cut the Gigas Cedar, a gigantic tree that prevented the growth of their village. Despite receiving their task a year and three months before, the two boys barely managed to leave a dent in the gigantic tree's Durability each day, just as the six generations of carvers before them. Just then, their childhood friend Alice came to bring them their daily lunch. However, due to the heat and the long trip from the village to the tree, the two boys had to hastily eat the food before it spoiled. Concerned by this, Kirito recalled a cave mentioned in the Bercouli and the Northern White Dragon legend and proposed to travel to the cave to acquire some ice. On their next rest day three days later, the three children travelled to the Northern Cave, where they discovered that the dragon from the legend had already been killed, while its treasure, including the Blue Rose Sword, remained. Upon acquiring their ice, the trio realised that they had lost track of which passage they had arrived from. The three children chose the closest passage for their return trip; however, the trio soon discovered that they had mistakenly chosen a path that led to the Dark Territory, the land of darkness outside the Human Empire where various demi-humans lived. At that moment, the three of them noticed a battle taking place between an Integrity Knight, a guardian of the Human Empire, and a knight from the Dark Territory, both riding dragons in mid-air. The Integrity Knight dispatched the dark knight moments later, causing him to crash close to the entrance to the cave. As the dark knight attempted to reach out to the children for help, Alice subconsciously began approaching the knight, tripping and accidentally touching the ground of the Dark Territory along the way, thus breaching a clause of the Taboo Index, the ultimate law of the Human Empire. To their surprise, a head appeared behind the children the next moment, logging Alice's identity and actions, before disappearing. Confused by what had taken place, the children decided to return to the village. The following day, the Integrity Knight they had encountered in the Dark Territory, Deusolbert Synthesis Seven, arrived at the village to arrest Alice for her crimes. Shocked, Kirito attempted to attack the knight but was assailed by a wave of energy, causing him to be brought to the ground. When Eugeo attempted to come to Alice's aid himself, he was assailed by a pain in his right eye that halted his actions as Alice was flown away by the knight and his dragon.

On June 27, 2026, per Sinon's request, Asuna, Kirito, Klein, Lisbeth, and Silica came to Gun Gale Online to assist the sniper in a battle against a strange group of player killers in the game; however, the player killers escaped midway through the battle. Following the encounter, Sinon requested for a meeting with Asuna and Kirito in the real world the following day. On June 28, 2026, at the Dicey Cafe, Asada Shino (Sinon) and Kirigaya Kazuto discussed the recent Bullet of Bullets IV tournament, where Shino had lost to an infamous player named Subtilizer. When they were joined by Asuna, the girls had Kazuto share more details about his part-time job. The boy explained that he had been testing a new FullDive system, known as the Soul Translator and developed by a company named Rath, that was fundamentally different from other FullDive consoles as it interacted with the user's Fluctlight — the equivalent of a human soul — rather than the brain. The device could create a virtual world akin to a realistic dream, allowing the user to experience a subjectively longer Dive than it actually lasted. After finishing their conversation and leaving the cafe, Kazuto decided to accompany Asuna home. While conversing about the Soul Translator along the way, the two were interrupted by a man, who was revealed to be a member of Laughing Coffin and the final member of the Death Gun trio, who had yet to be apprehended, Johnny Black (Kanamoto Atsushi). When Atsushi charged at the boy with a vial filled with a muscle relaxant, Kazuto attempted to counterattack with his umbrella but was injected with the drug during the scuffle, causing his collapse due to cardiac arrest.

2
The Demon Tree [49]
Akuma no Ki (悪魔の樹)
October 13, 2018[51]
February 16, 2019[citation needed]
On the 19th Day of the 3rd Month of the Human Empire Calendar, Kirito awoke in a forest, disoriented due to being unable to recall what had happened to him after leaving the Dicey Cafe with Asuna. The boy deduced that he had been brought to Underworld with his real world memories but was unable to contact the managers of the world. Following a sound he heard in the area, Kirito found a boy sitting next to a gigantic tree. As the boy did not understand his gaming terms, Kirito realised that it would be pointless to request information pertaining to the real world from the boy, thus he instead asked for a place to stay. The boy offered to lead Kirito to the nearby village of Rulid, where the church could provide lodging for him, after finishing his work at the tree. When Kirito accepted his offer, the boy introduced himself as Eugeo, before offering Kirito some bread. During a conversation about the bread, Eugeo mentioned that a girl named Alice used to bring him lunch at noon, before she was arrested. After sharing the story of what had happened to the girl with Kirito, Eugeo returned to his work, which was to cut the gigantic Gigas Cedar tree, as it prevented the village from expanding. Wishing to repay the boy for his kindness, Kirito offered to help him with his job. Several hours later, with the quota for the day fulfilled, the two boys headed to the village, where they encountered Jink, the captain of the village's guards. Sceptical about Kirito's claim of being a swordsman, Jink offered the boy his sword to prove he could use it, becoming shocked when the boy unintentionally activated a Sword Skill during his demonstration. Eugeo and Kirito eventually arrived to the church, where Sister Azalia's apprentice, Selka Zuberg showed the latter to his room. After contemplating on the world and deducing that the people he had met were Artificial Fluctlights, copies of newborn Fluctlights raised in the virtual world, the boy speculated that he might find a method to contact the outside world in a bigger city, and fell asleep as he deliberated the need of a partner for his journey.
3
The End Mountains [49]
Hate no Sanmyaku (果ての山脈)
October 20, 2018[52]
February 23, 2019[citation needed]
On the 20th Day of the 3rd Month, Kirito joined Eugeo at the Gigas Cedar, mulling about the need to fell the tree to get the boy's help in order to reach the central city in the empire. During a lunch break, Kirito learnt about Selka being Alice Zuberg's sister and rumours about recent goblin sightings in the area. Due to Kirito expressing his curiosity on the possibility of a more effective way to cut the tree during the ensuing conversation, Eugeo brought the Blue Rose Sword to Kirito, who decided to test the sword on the Gigas Cedar. Although he was able to cut into the tree and deal damage to it, the heaviness of the sword due to his low Object Control Authority reduced the effectiveness of the slash. That evening, Kirito learnt from Selka that Eugeo had stopped smiling ever since Alice was arrested, while the other villagers began overwhelming her with their great expectations of her as Alice's sister. After being comforted by Kirito, Selka enquired about the reason for Alice's arrest, and thus learnt from the boy about the incident of her sister trespassing into the Dark Territory. The following morning, as Selka was found to have disappeared from the village, Kirito hurried to meet with Eugeo and recalled his conversation with the girl the previous evening, realising that she could have travelled to the Northern Cave to imitate her sister. Alarmed by this realisation, the two boys rushed to the Northern Cave, where the duo found that Selka had been abducted by a group of goblins. Upon noticing the girl, Eugeo shouted her name, unintentionally alerting the goblins to their presence. As the monsters approached the boys with the intent to kill them, Eugeo succumbed to terror.
4
Departure [49]
Tabidachi (旅立ち)
October 27, 2018[53]
March 2, 2019[citation needed]
As the goblins the boys encountered at the Northern Cave continued approaching them, Kirito devised a plan to charge at the nearest goblins and douse the goblins' fire in order to retrieve a weapon from their stockpile. As Eugeo distracted some of the goblins with their newly-acquired weapons, Kirito focused on their leader Ugachi. During their battle, Kirito eventually managed to sever one of Ugachi's arms; however, Kirito himself suffered the same fate when his momentary loss of vigilance allowed Ugachi to retaliate. Just as the boy was about to receive the finishing blow, Eugeo rushed to his friend's aid, suffering a lethal injury during the clash. As blood spilled from his wounds, the boy recalled his suppressed childhood memories with Kirito, triggering the latter's own suppressed memories of his time with Eugeo and Alice during his first FullDive. When Eugeo lost consciousness, the anguish from Kirito's memories overshadowed his physical pain, filling him with renewed vigour that eventually allowed him sever the goblin's head. Once the other goblins began fleeing, Kirito brought Selka to Eugeo to help seal the boy's wounds. As regular Sacred Arts could no longer help with the wounds, Selka began transferring Kirito's and her own Durability to the boy. Before losing consciousness, Kirito was visited by a phantom of Alice, telling the boy that she would be waiting for them at the top of the Central Cathedral in Centoria. Having recovered from his wounds, Eugeo returned to working at the Gigas Cedar with Kirito several days later. Now having a higher Object Control Authority, Kirito attempted to use the Blue Rose Sword against the tree once more, dealing significant damage to the tree this time. As Eugeo requested Kirito to teach him his swordsmanship to fulfil his desire of rescuing Alice, the two boys spent the following days practicing with the sword, until Eugeo eventually succeeded in felling it. Granted the right to choose a new Sacred Task, Eugeo elected to become a swordsman and travel to Zakkaria with Kirito, hoping to one day reunite with Alice at the Central Cathedral.
5
Ocean Turtle [49]
Ōshan Tātoru (オーシャン・タートル)
November 3, 2018[54]
March 9, 2019[citation needed]
6
Project Alicization [49]
Arishizēshon Keikaku (アリシゼーション計画)
November 10, 2018[55]
March 23, 2019[56]
7
Swordcraft Academy [49]
Ken no Manabiya (剣の学び舎)
November 17, 2018[57]
March 30, 2019[56]
8
Swordsman's Pride [49]
Kenshi no Kyouji (剣士の矜持)
November 24, 2018[58]
March 30, 2019[56]
9
Nobleman's Responsibilities [49]
Kizoku no Sekinin (貴族の責任)
December 1, 2018[59]
April 6, 2019[60]
10
Taboo Index [49]
Kinki Mokuroku (禁忌目録)
December 8, 2018[61]
April 6, 2019[60]
11
Central Cathedral [49]
Sentoraru Kasedoraru (セントラル・カセドラル)
December 15, 2018[62]
April 13, 2019[63]
12
The Sage of the Library [49]
Toshoshitsu no Kenja (図書室の賢者)
December 22, 2018[64]
April 20, 2019[citation needed]
13
Ruler and Mediator [49]
Shihaisha to Chouteisha (支配者と調停者)
January 5, 2019[65]
April 27, 2019[citation needed]
14
The Crimson Knight [49]
Guren no Kishi (紅蓮の騎士)
January 12, 2019[65]
May 4, 2019[citation needed]
15
The Relentless Knight [49]
Retsujitsu no Kishi (烈日の騎士)
January 19, 2019[66]
May 11, 2019[citation needed]
16
The Osmanthus Knight [49]
Kinmokusei no Kishi (金木犀の騎士)
January 26, 2019[67]
May 18, 2019[citation needed]
17
Truce [49]
Kyūsen Kyoutei (休戦協定)
February 2, 2019[68]
May 25, 2019[citation needed]
18
The Legendary Hero [49]
Densetsu no Eiyū (伝説の英雄)
February 9, 2019
June 1, 2019[citation needed]
18.5
Recollection [49]
Rikorekushon (リコレクション)
February 16, 2019
A summary of Alicization episodes 1-18.
19
The Seal of the Right Eye [49]
Migime no Fūin (右目の封印)
February 23, 2019
June 8, 2019[citation needed]
20
Synthesis [49]
Shinsesaizu (シンセサイズ)
March 2, 2019
June 15, 2019[citation needed]
21
The 32nd Knight [49]
Sanjūni-banme no Kishi (三十二番目の騎士)
March 9, 2019
June 22, 2019[citation needed]
22
Titan of the Sword [49]
Ken no Kyojin (剣の巨人)
March 16, 2019
June 29, 2019[citation needed]
23
Administrator [49]
Adominisutorēta (アドミニストレータ)
March 23, 2019
July 6, 2019[citation needed]
24
My Hero [49]
Boku no Eiyū (ぼくの英雄)
March 30, 2019
July 13, 2019[69]
25
In the Far North [70]
Kita no Chi nite (北の地にて)
October 12, 2019
26
Raids [70]
Shūgeki (襲撃)
October 19, 2019
27
The Final Load Test [70]
Saishū Fuka Jikken (最終負荷実験)
October 26, 2019
28
Dark Territory [70]
Dāku Teritorī (ダークテリトリー)
November 2, 2019
29
The Night Before Battle [70]
Kaisen Zen'ya (開戦前夜)
November 9, 2019
30
Battle of the Knights [70]
Kishi-tachi no Tatakai (騎士たちの戦い)
November 16, 2019
31
Stigma of the Disqualified [70]
Shikkaku-sha no Rakuin (失格者の烙印)
November 23, 2019
32
Blood and Life [70]
Chi to Inochi (血と命)
November 30, 2019
33
Sword and Fist [70]
Ken to Ken (剣と拳)
December 7, 2019
34
Stacia, the Goddess of Creation [70]
Souseishin Suteishia (創世神ステイシア)
December 14, 2019
35
Heartless Choice [70]
Hijō no Sentaku (非情の選択)
December 21, 2019
36
Ray of Light [70]
Hitosuji no Hikari (一筋の光)
December 28, 2019
37
The War of Underworld [70]
Andāwārudo Taisen (アンダーワールド大戦)
July 11, 2020[71]
38
End to Eternity [70]
Mugen no Hate (無限の果て)
July 18, 2020
39
Instigation [70]
Sendō (扇動)
July 25, 2020
40
Code 871 [70]
Kōdo 871 (コード871)
August 1, 2020
41
Prince of Hell [70]
Akuma no Ko (悪魔の子)
August 8, 2020
42
Memories [70]
Kioku (記憶)
August 15, 2020
43
Awakening [70]
Kakusei (覚醒)
August 22, 2020
44
The Night-Sky Blade [70]
Yozora no Ken (夜空の剣)
August 29, 2020
45
Beyond Time [70]
Toki no Kanata (時の彼方)
September 5, 2020
46
Alice [70]
Arisu (アリス)
September 12, 2020
47
New World [70]
Nyū Wārudo (ニューワールド)
September 19, 2020
Blu-ray/DVD
[
]
In Japan, all 9 volumes of season 1 discs were released between October 24, 2012 and June 26, 2013, while the Extra Edition volume was released on April 23, 2014. Each volume is divided into 3 versions: Limited edition Blu-ray Discs, Limited edition DVDs, and Regular Edition DVDs.
Limited edition versions include a character commentary special episode, called "Sword Art Offline" for each volume, a non-credit opening song for volumes 1 and 6, a non-credit ending song for volumes 5 and 9, and an original soundtrack for volumes 4 and 7, respectively. Volume 1 and 9, as well as the Extra Edition volume special editions were also bundled with a short story novel, called The Day Before, The Day After and Rainbow Bridge respectively. Each volume also has an episode given with an audio commentary by the creators and Japanese casts. There are also specials, for example, 16-page deluxe booklets, included.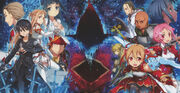 Those who purchase Volume 1 and Volume 6 BD/DVD from specified shops can get a collection box that can store discs of that arc, with an illustration drawn by abec wrapped around it. Those who buy all volumes together from these shops can get a cast symposium CD. There are also many different shop-specific specials that can be obtained by buying these discs, the content included in these specials varying based on the shop the discs are purchased from.
Discs for the Extra Edition are also available separately in April 2014, with a limited edition version featuring bonuses similar to those in season 1, including a Sword Art Offline episode, a short story novel, a 16-page deluxe booklet, digital character design and so on.
Unlike the Japanese Blu-ray disc version, the American Blu-ray discs for season 1 are packed in 4 BD-BOX sets/DVD Volumes, 2 sets for each arc. Original Soundtracks, audio commentary and special episodes are also included in BD box sets. Both BD box sets and DVD volumes have a non-credit opening/ending song included. Numerous other material are also included in both versions, although the BD boxset has more such material, including a 16-page deluxe booklet, English cast interviews and so on.
The season 2 disc release in Japan will be starting from October 22, 2014. Like the season 1 discs, limited version BDs and DVDs will include Sword Art Offline, commentary audio channels, booklets, and so on. The original soundtracks of SAOII come with BD Volume 3 and 7.
Sword Art Online The Movie -Ordinal Scale- was released on DVD/Blu-Ray in Japan on September 27, 2017,[72] with the North American release on December 19, 2017.[73] The limited edition versions of the Japanese DVDs/Blu-Rays come with an Ordinal Scale epilogue story, titled Cordial Chords.
Japanese BD/DVD release
Vol.
Release Date
Episode
RIS Product Code
BD Limited
DVD Limited
DVD Regular
Season 1
1
2012-10-24
1 - 2
ANZX-6601/02
ANZB-6601/02
ANSB-6601
2
2012-11-21
3 - 5
ANZX-6603/04
ANZB-6603/04
ANSB-6603
3
2012-12-26
6 - 8
ANZX-6605/06
ANZB-6605/06
ANSB-6605
4
2013-01-23
9 - 11
ANZX-6607/08
ANZB-6607/08
ANSB-6607
5
2013-02-27
12 - 14
ANZX-6609/10
ANZB-6609/10
ANSB-6609
6
2013-03-27
15 - 16
ANZX-6611/12
ANZB-6611/12
ANSB-6611
7
2013-04-24
17 - 19
ANZX-6613/14
ANZB-6613/14
ANSB-6613
8
2013-05-22
20 - 22
ANZX-6615/16
ANZB-6615/16
ANSB-6615
9
2013-06-26
23 - 25
ANZX-6617/18
ANZB-6617/18
ANSB-6617
Extra Edition
2014-4-23
Extra Edition
ANZX-6619/20
ANZB-6619/20
ANSB-6619
Season 2
1
2014-10-22
1 - 3
ANZX-11121/22
ANZB-11121/22
ANSB-11121
2
2014-11-26
4 - 6
ANZX-11123/24
ANZB-11123/24
ANSB-11123
3
2014-12-24
7 - 9
ANZX-11125/26
ANZB-11125/26
ANSB-11125
4
2015-01-28
10 - 12
ANZX-11127/28
ANZB-11127/28
ANSB-11127
5
2015-02-25
13 - 14.5
ANZX-11129/30
ANZB-11129/30
ANSB-11129
6
2015-03-25
15 - 17
ANZX-11131/32
ANZB-11131/32
ANSB-11131
7
2015-04-22
18 - 20
ANZX-11133/34
ANZB-11133/34
ANSB-11133
8
2015-05-27
21 - 22
ANZX-11135/36
ANZB-11135/36
ANSB-11135
9
2015-06-24
23 - 24
ANZX-11137/38
ANZB-11137/38
ANSB-11137
Season 3
1
2019-01-30
1 - 3
ANZX-14241/42
ANZX-14241/42
ANSB-14241
2
2019-02-27
4 - 6
ANZX-14243/44
ANZB-14243/44
ANSB-14243
3
2019-03-27
7 - 9
ANZX-14245/46
ANZB-14245/46
ANSB-14245
4
2019-04-24
10 - 12
ANZX-14247/48
ANZB-14247/48
ANSB-14247
5
2019-05-29
13 - 15
ANZX-14249/50
ANZB-14249/50
ANSB-14249
6
2019-06-26
16 - 18.5
ANZX-14251/52
ANZB-14251/52
ANSB-14251
7
2019-07-24
19 - 21
ANZX-14253/54
ANZB-14253/54
ANSB-14253
8
2019-08-28
22 - 24
ANZX-14255/56
ANZB-14255/56
ANSB-14255
English BD/DVD Release
Vol.
USA Release Date
Australia Release Date
Episodes
Season 1
1
2013-08-13
2013-12-18
1 - 7
2
2013-09-17
2014-01-15
8 - 14
3
2013-10-15
2014-02-19
15 - 19
4
2013-11-19
2014-03-19
20 - 25
Extra Edition
-
2014-12-23
2016-12-07
Extra Edition
Season 2
1
2015-06-30[74]
2015-08-05[75]
1 - 7
2
2015-09-22
2015-11-18
8 - 14.5
3
2015-11-17
2016-02-10

15 - 17 (American Release)

15 - 19 (Australian Release)

4
2016-01-19
2016-04-06

18 - 24 (American Release)

20 - 24 (Australian Release)
Blu-ray Bonus Episodes
[
]
The following episodes are produced by I was a Ballerina co.,ltd..
No.
Title
Original Release Date
Season 1
1
Sword Art Offline 1
October 24, 2012
A mock TV news is held by Kirito and Asuna, featuring some highlights of episodes 1 and 2 and having Klein as a special guest. Then Kirito tries to do Life Counseling, but the client (Klein) is not satisfied.
2
Sword Art Offline 2
December 3, 2012
The TV news continues, featuring highlights of episodes 3, 4, and 5, with Silica as the main guest. Klein tries to do Life Counseling, but Asuna practically takes over.
3
Sword Art Offline 3
December 26, 2012
This edition feature the highlights of episodes 6, 7, and 8, with Lisbeth as the main guest.
4
Sword Art Offline 4
January 23, 2013
Features highlights of episodes 9, 10, and 11, with Yui as the main guest. Due to this, Heathcliff temporarily replaces her as the Trivia Bot.
5
Sword Art Offline 5
February 27, 2013

Features highlights of episodes 12, 13 and 14. Heathcliff is the main guest of this episode.

6
Sword Art Offline 6
March 27, 2013
The series is heavily revamped, with Leafa taking the role of the host in place of Asuna and Klein's Life Counseling corner replaced by the Slot Talk section. No guest is featured in this episode.
7
Sword Art Offline 7
April 24, 2013
Features highlights of episodes 17, 18, and 19, with Yui as the main guest. Thus, Oberon temporarily replaces her as the Trivia Bot.
8
Sword Art Offline 8
May 22, 2013
Features highlights of episodes 20, 21 and 22, with Sakuya and Alicia Rue as the special guests. In the first 7 minutes of the episode, the show reminiscences about Kirito's death in ALO, with Kirito standing in a coffin.
9
Sword Art Offline 9
June 26, 2013
Features highlights of episodes 23, 24 and 25, with Asuna as the special guest.
Extra Edition
Extra
Sword Art Offline Extra Edition
April 23, 2014
Features highlights of the Extra Edition with Asuna and Leafa as the hosts, Kirito as the commentator and Yui as the guest.
Season 2
1
Sword Art Offline Two 1
October 22, 2014
2
Sword Art Offline Two 2
November 26, 2014
3
Sword Art Offline Two 3
December 24, 2014
4
Sword Art Offline Two 4
January 28, 2015
5
Sword Art Offline Two 5
February 25, 2015
6
Sword Art Offline Two 6
March 25, 2015
7

Sword Art Offline Two 7

April 22, 2015
8

Sword Art Offline Two 8

May 27, 2015
9

Sword Art Offline Two 9

June 24, 2015
Notes
[
]
↑ 1.0 1.1

The English dub version of episodes 4-25 was initially released in English on DVDs and Blu-Rays. The airdates listed with "(DVD/BD)" refer to the episode's initial release on DVDs and Blu-Rays, while dates marked with "(TV)" refer to their first English television airings on Adult Swim's Toonami block.

↑

Name misspelled
References
[
]
External links
[
]
[

]