| | |
| --- | --- |
| | Non Canon: Some or all events and details given in this article, may be considered non-canon to the main story. |
Sword Art Online games are real life game adaptations of the original Sword Art Online light novel series, written by Kawahara Reki. There are seven currently known major officially licensed game adaptations.
Console/PC Games
Sword Art Online: Infinity Moment
Sword Art Online: Infinity Moment is a PlayStation Portable (PSP) game released on March 14, 2013. It is a non-canon story that takes place on the 76th to 100th floors of the Sword Art Online version of Aincrad, branching off from the main story during Kirito's duel with Heathcliff on the 75th Floor. This game is only available in Japanese and, so far, has already sold more than 200,000 copies[1]. Its official game guide has been on sale since April 20, 2013.
Sword Art Online: Hollow Fragment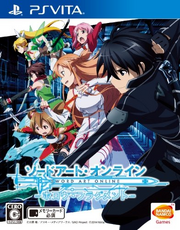 Sword Art Online: Hollow Fragment is a Role-playing game on the PlayStation Vita (PS Vita) platform that was released on April 24, 2014.[2] It is set in the same alternative timeline as Sword Art Online: Infinity Moment[3] and includes a new character Philia, who is voiced by Ishikawa Yui.[4] Compared to the previous PSP game, a burst gauge, which allows continuous attacks as long as the player has enough burst energy left, was added to its battle system. Certain play data from the previous Infinity Moment game can be imported into this game. Its official game guide has been available since May 23, 2014. An Asian Chinese and English version has been released by May, 2014, while another English version for America, Europe and Australia was released by August 2014. The game introduced a major update by July-September, 2014, depending on the version of the game, and another guidebook named after the update has also been published in Japan.
A port of this game was released on the PlayStation 4 as Sword Art Online: Re: Hollow Fragment on July 28, 2015 in North America[5], on August 4, 2015 in Europe[6], and on November 19, 2015 in Japan[7].
Sword Art Online: Lost Song
Sword Art Online: Lost Song is an Action RPG which was released in Japan for both PlayStation 3 and PlayStation Vita on March 26, 2015.[8] The game has also been released for the PlayStation 4 and PlayStation Vita in the PAL region on November 13, 2015[9] and on November 17, 2015 in North America.[10] Lost Song has received the Gold Prize in the PlayStation Awards 2016.[11]
The game is set in ALfheim Online, within the lost land Svartálfaheimr, a series of floating continents; such as Vorklinde, a grassland region featuring windmills and other large structures[12].
For the first time in the series, Lost Song allows players to play as characters other than Kirito. It will also allow for a limited form of character customization. Parties in this game allow up to three characters at a time. A flight system is featured in the game, allowing players to switch between ground and flight modes at will, though dungeon battles are mostly fought on the ground.[13][14]
A port of Lost Song has been released on the PlayStation 4 in Japan, the Americas[15], and the PAL territories in 2015[16].
Sword Art Online: Hollow Realization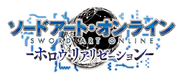 A fourth game in the main Sword Art Online game series was announced at the 2015 Tokyo Game Show and provisionally named as "SAO IV"[17]. It was revealed as Sword Art Online: Hollow Realization at the Dengeki Bunko Autumn Festival on October 4, 2015; the game was released for the PlayStation Vita and PlayStation 4 on October 27, 2016 in Japan[18][19] and November 8, 2016 in the West[20].
Accel World VS Sword Art Online: Millennium Twilight
A crossover title incorporating both the Sword Art Online and Accel World franchises, titled Accel World VS Sword Art Online: Millennium Twilight, was released for the Playstation 4 and Playstation Vita on March 16, 2017 in Japan[21] and July 7, 2017 in the West[22].
Sword Art Online: Fatal Bullet
Sword Art Online: Fatal Bullet is a Third Person Shooter Role-Playing Game, scheduled to be released in the year 2018 on the PlayStation 4, XBox One, as well as Personal Computers (PCs) via Steam. The game is being developed by Dimps, based on Unreal Engine 4,[23] and will be set in Gun Gale Online.[24]
Mobile Games
Sword Art Online: End World
Sword Art Online: End World (ソードアート・オンライン エンドワールド?) is a social game, originally set to be launched by GREE in September 2012, but then delayed by technical difficulties and relaunched in February 2013[25][26], that can be played via a mobile phone's browser (it is said to work best with webkit[27]). The game will be operated in a freemium fashion[28] and will only be available in Japanese. Only those who have a Japanese IP will be able to play the game[29]. As of June 2014, the game attracted more than 1,000,000 players registered in it.[30] A book called «Sword Art Online: End World Visual Book with Special Item Attached» was released on October 27, 2014. The game's service will end on September 20, 2017.[31]
Sword Art Online: Code Register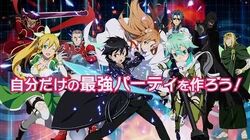 Sword Art Online: Code Register (ソードアート・オンライン コード・レジスタ?) is an RPG released on Android on December 16, 2014 and subsequently on iOS on December 24, 2014.[32]Its theme is "an RPG that connects all things together", with SAO, ALO and GGO being its stage.[33] The game runs in freemium mode. It has been downloaded more than 3 million times. [34]
Sword Art Online: Progress Link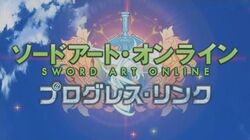 Sword Art Online: Progress Link (ソードアート・オンライン プログレス・リンク?) was an RPG released on iOS and Android on February 10, 2015. It was an ALO-based game where players could choose their own race, as well as use Sword Skill and magic. The game operated via the Mobage platform. To mark the one-year anniversary of the game being in service, its title was changed to Progress Link Infinity (プログレス・リンク インフィニティ?) and large updates to the game were made.[35] The game was terminated on July 29, 2016.[36]
Sword Art Online: Memory Defrag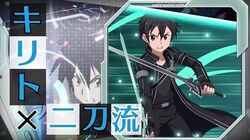 Sword Art Online: Memory Defrag (ソードアート・オンライン メモリー・デフラグ?) is an Android and iOS game that was announced during an official live stream on June 27, 2016. It was released on Android on August 22, 2016[citation needed] and iOS on August 30, 2016[citation needed] in Japan. The game will also be released in Chinese[37] and English[38]. The story has elements from the anime series, as well as an original story. Before the game was released, pre-registration was available. Players who had pre-registered received bonuses, the number of which depended on the number of pre-registrations. [39] As of December 2016, the game has been declared as the most trendy game in 2016 at Google Play Store.[40]
An international edition of the game, translated into English and Chinese, was released on Google Play and App Store in Australia, Belgium, Canada, France, Germany, Indonesia, Italy, Malaysia, Phillippines, Singapore, Thailand, Taiwan, Hong Kong, United Kingdom, and the United States in January 2017.[41]
The Black Swordsman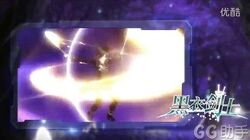 The Black Swordsman (Japanese: 黒衣剣士?, Chinese: 黑衣剑士) is a Chinese 3D RPG game where the player can control 3D characters and experience Sword Art Online, ALfheim Online, and Gun Gale Online. It is developed by Yun Chang Game under Bandai Namco's supervision [42]. The game is currently being distributed and is operating under Bandai Namco Shanghai, Bandai Namco Entertainment and Qihoo 360 on Chinese platforms. [43][44] The game was launched on Android in May 26, 2016 and on iOS in June 9, 2016 after a brief period of closed beta[42], though it is officially still in an "open beta" phase.[45]
Board Game
Sword Art Online Board Game: Sword of Fellows (ソードアート・オンライン ボードゲーム ソード・オブ・フェローズ?) is a board game based on the Aincrad arc. In the game, the players assume the roles of Kirito, Asuna, and other anime characters in their quest to defeat monsters to survive and climb to the highest level of Aincrad. The game set includes six character cards, ten scenario cards, eight item cards, one support card, four main dice, four support dice, six character dice, and thirty tokens. The required time for one play is about thirty minutes, while the suggested age is ten or more.[46]
The game is developed by Arclight and designed by Seiji Kanai. It was simultaneously released in Japanese[46][47] and Chinese[48] on June 29, 2017, while the English edition has been delayed.[49]
Cooperators
Dengeki Bunko Puzzle Collection
Carddass
Mahouka Koukou no Rettousei: Out of Order[† 2]
God Eater 2: Rage Burst[† 3]
Digimon Story: Cyber Sleuth[† 4]
Cooperating Online Games:

TalesWeaver
Mabinogi
Vindictus
MapleStory
Dungeon Fighter Online

Trading card games:

Weiß Schwarz
Five qross
Yome Collection
Miscellaneous
Sword Art Quest - A number of promotional activities provided on the anime official site for users to complete to obtain awards. Currently ended and removed from the official site, though still accessible via entering Aniplex's URL.
Sword Art Quest II - Similar to Sword Art Quest, but changed into the form of Android/iOS apps.
Sword Art Online fone - an android app that replaces the user's phone's launcher and provides leveling and guild-forming features. The app's beta edition was released in December 2013, and its official release had been targeted at Spring 2014.
SAO-LOG OUT- - an SAO-themed android game being sold via Google Play, priced at around 2.77 USD.
Sword Art Online Guild Members - A level up system hosted on the SAO game portal site.
External Links
Notes
References