Jurassic World: Dominion Dominates Fandom Wikis - The Loop
Play Sound
Showdown in the Wilderness (曠野の決闘, Kōya no Kettō?) is the sixth episode of the Sword Art Online II anime adaptation, as well as the sixth episode in the Phantom Bullet Arc. It aired on August 9, 2014.
Plot
[
]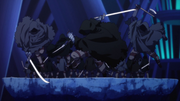 After his encounter with Death Gun, Kirito realised that Death Gun was a member of Laughing Coffin in Sword Art Online. After Death Gun took his leave, Kirito recalled the events of the crusade against Laughing Coffin in Sword Art Online. During the crusade, the clearers were ambushed by members of the Laughing Coffin and a massacre ensued. As the clearers hesitated killing the red players, several clearers died, causing Kirito to kill Laughing Coffin members in anger.
By the end of the crusade, twenty-one members of Laughing Coffin were killed, while two of those were killed by Kirito himself. Kirito's thoughts were then interrupted by Sinon, who tapped his shoulder, remarked that he looked awful, and wondered if he would be able to reach the finals at that rate. After seeking comfort by clutching a confused Sinon's hand, Kirito was teleported to his next match during which he regained his fighting spirit.
Sinon was teleported to her next match against Stinger in the Wasteland Crossroads. As Sinon overlooked the intersection, her opponent tricked her into firing a decoy, thus giving her location away. Stinger then drove a Humvee through the square into an attempt to close the distance between Sinon and himself. Sinon, using the trajectory of her first shot, fired a bullet directly into Stinger's head through the Humvee's window and won the match.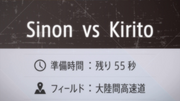 Later, Sinon was teleported to the block finals where she would face Kirito, although it was just an exhibition match that had no effect on the final tournament. To her surprise, Kirito, who no longer felt the need to fight, intentionally walked directly into Sinon's line of sight and did not even try to win the battle, greatly angering Sinon. As Sinon grew angrier, she fired and missed several shots at him before finally confronting him in person and chastising him. Realising that he had broken his promise that he would fight Sinon in the finals, Kirito offered to have a duel to settle the match. Sinon believed that she would win, as a distance of ten meters guaranteed a one-shot kill with her sniper rifle.
Kirito used a bullet from his FN Five-Seven to determine the beginning of the duel and, when the bullet touched the ground, Sinon immediately fired. By predicting where Sinon would shoot via following her eyes, Kirito cut the bullet in half and rushed at Sinon, stopping her from using her pistol, and held her close to him and his sword. After Kirito explained his strategy, Sinon questioned what he was afraid of if he was so strong, but he replied that it was just skill, not strength. Sinon refuted his answer and asked how she could become as strong as him. Instead of answering the question, Kirito asked her if she would be able to kill people in the real world to protect herself and the lives of the ones she loved, causing her to realise that they had identical pasts. Kirito then claimed that, he was no longer able to do so, which is why he believed that he was not strong. Kirito then requested Sinon to resign as he refused to deal the finishing blow. Sinon angrily resigned from the match, but vowed to beat him next time.
New Characters
[
]
Inventory
[
]
Locations
[
]
Adaptation Notes
[
]
Adapted from Volume 5 Chapter 6 and 7
In the novel, Kirito put Sinon's hand on his chest and then forehead, while in the anime, he only held it.
The "report sexual harassment" button in Sinon's point of view was not shown.
[

]