Zekken (絶剣, Zekken?) is the nineteenth episode of the Sword Art Online II anime adaptation, as well as the second episode of Mother's Rosario. It aired on November 15, 2014.
Plot
[
]
After agreeing to meet everyone the next day, Asuna logged out of ALfheim Online and went to have dinner with her mother, Yuuki Kyouko. During the meal Kyouko asked Asuna if she was playing on the AmuSphere. Asuna answered that she was, much to her mother's disapproval. Kyouko scolded her daughter for using it for homework, believing that she should do her homework in the real world and not a virtual one. Kyouko then revealed to Asuna that she had hired a personal tutor for her so that she could speed up her education, much to Asuna's surprise. She also revealed that her friend had given her an application for an oriented high school that would be able to efficiently teach her in order for her to go to college at a faster rate. Asuna declined the notion and argued that the school she was currently in was fine. Her mother countered by saying that the school was basically a prison for monitoring the children who were killing each other for two years. To this, Asuna mumbled that she was one of them.
Kyouko then also told Asuna how she was doing this so she could have a better career filled with promise, and, most of all, wealth. Asuna deduced that the man she was introduced to in Kyoto was someone her mother had set her up to marry because of his status. She was also shocked to hear that she investigated on Kirigaya Kazuto, saying how she disapproved of her relationship with him. Asuna got up and left the table, saying she would look over the high school application. Before she left, Asuna told Kyouko that she thought that she was doing this so that her daughter would not have to live a lowly life like she did. This infuriated Kyouko who then called for Asuna, but Asuna ignored her and left. In her room, Asuna thought about how she wanted to stay by Kazuto's side and lamented over the fact that, while she may have been powerful in Sword Art Online, she was powerless in the real world.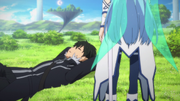 The next day, Asuna met with Kirito on the 24th Floor of New Aincrad. As the two saw a rabbit that reminded them about the Ragout Rabbit, they recalled the time when Kirito first came to Asuna's house in Selmburg. They then noticed players flying to the island where Absolute Sword was holding their duels. After Kirito told Asuna that Absolute Sword was strong, she asked him what he had said to them during their duel. Kirito explained that he had asked them whether they were truly living in the virtual world.
As Kirito finished sharing his impressions of the mysterious player, they were interrupted by Leafa, Lisbeth and Silica, who reminded them that Asuna had a duel to get to. At the island, Asuna found out that the mysterious player was actually a girl named Yuuki. Pushed by Lisbeth, Asuna challenged Yuuki and soon found out how skillful she was. Deciding that she would not give up, Asuna went full out. As the battle raged on, Asuna punched Yuuki while their swords were crossed and then used the window to activate a rapier Sword Skill, Quadruple Pain.
To her surprise, Yuuki skillfully managed to block her fast attacks and then activated her own Sword Skill. Suffering heavy blows, Asuna activated her Original Sword Skill, Starry Tear. However, while she had used up her last attack of Starry Tear, Yuuki's Sword Skill was still ongoing. Although Asuna was prepared to be defeated, Yuuki stopped the attack just before it reached her.
Yuuki then stated that she was satisfied with the duel and gave her hand to Asuna. Yuuki then took Asuna to outside Aincrad where she asked for her help.
New Characters
[
]
Sword Skills
[
]
«Quadruple Pain»
«Starry Tear»
Locations
[
]
Error
[
]
Kirito's line about Asuna being stronger than him was actually said just before his marriage proposal, instead of after the meeting with Heathcliff. Additionally, the line was not present in neither episode 10, nor episode 13 of season 1 in the anime.
Adaptation Notes
[
]
Adapted from Volume 7, Chapters 2-3
Asuna and Kirito's conversation about recreating the taste of the Ragout Rabbit stew was omitted.
Asuna and Kirito's conversation about purchasing a house in Selmburg and later about Agil's Item Shop was omitted.
A word in Asuna's question about Yuuki spending a lot of time in the virtual world was changed from gaming junkie (

廃プレイヤー

,

Hai-pureiyā, lit. "degenerate players"

?

) to heavy user (

ヘビーユーザー

,

Hebī Yūzā

?

).[1]
In the novel, Yuuki asked Asuna if she was busy after their duel before leading her away. Thus Asuna willingly followed Yuuki and also had the time to tell the others that she would contact them later.
Kirito was not shown to have predicted that Asuna would be going away with Yuuki.
References
[
]
[

]