The Sandman Will Keep You Awake - The Loop
Play Sound
This article is missing some information.
You can help by adopting it and adding the missing information.
This article is open for adoption.
The End of the Journey (旅路の果て, Tabiji no Hate?) is the twenty-second episode of the Sword Art Online II anime adaptation, as well as the fifth episode of Mother's Rosario. It aired on December 6, 2014.
Plot
[
]
Three days after Yuuki abruptly logged out from ALfheim Online at the Monument of Swordsmen, Asuna met with Siune at the Ronbaru inn to ask what happened to Yuuki. Siune informed her that they were not able to contact Yuuki either. Asuna believed that they were trying to distance themselves from her and refused to accept that Yuuki disappeared for her sake, but Siune explained that Yuuki most likely did not want to see Asuna for her sake. Siune then abruptly logged out, asking Asuna to forget about them.
At school, Asuna was approached by Shinozaki Rika (Lisbeth) and Ayano Keiko (Silica) who asked her about the guild that Asuna was meeting with. Before Asuna could answer, she was messaged by Kazuto to meet at the rooftop. There, Kazuto who had been working on his Bidirectional Communication Probe for Yui asked Asuna if she really wanted to see Yuuki despite the Sleeping Knights asking her not to. After Asuna confirmed this, Kazuto gave her the address for a hospital where a medical FullDive machine, the Medicuboid, was being tested.
At the hospital, Asuna asked the nurses if she could meet a patient named Yuuki, but, as just the name was not enough, Asuna explained that Yuuki was the person testing the Medicuboid. A senior nurse immediately reacted and asked for Asuna's name and then asked her to wait at a bench. Several minutes later, Asuna was approached by Doctor Kurahashi, Yuuki's supervisor. Kurahashi took Asuna to a lounge upstairs to talk. He then expressed his surprise that Asuna was able to find the hospital and told her about the Medicuboid and that it was expected to be used for patients in terminal care. Kurashi then told Asuna that Yuuki allowed him to tell Asuna about her, but claimed that Asuna might regret hearing it.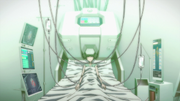 As Asuna asked him to continue, Kurahashi took Asuna to the room next to the Medicuboid testing room and explained that Yuuki was suffering from the Acquired Immunity Deficiency Syndrome (AIDS) due to an infection via blood transfusion during a complicated labour. He then told her that Yuuki continued to fight the disease, but in the 4th school year, her immune system collapsed and she was hospitalised. After Asuna asked why Yuuki started using the Medicuboid, Kurahashi explained that he was the one who offered the testing to her to have her put in a clean room where she would not risk further infection and also told her that Yuuki had been living inside the machine for three years straight, not returning to the real world at all.
Asuna then asked whether Yuuki had a sister and found out that her elder twin sister had passed away the year before. Seeing Asuna cry, Yuuki used the speakers connected to the Medicuboid to tell Asuna not to cry and to ask her to meet at the place where they first met in ALfheim Online. Asuna used the AmuSphere in the next room to log in to the game and rushed to Yuuki's location. There, the two talked and Asuna heard that Yuuki had a wish of going to school again. Suddenly, Asuna came up with an idea of how Yuuki could go to school.
New Characters
[
]
Locations
[
]
Adaptation Notes
[
]
Adapted from Volume 7, Chapter 8 and 9
The scene where Siune tried to give Asuna the promised items for helping defeat the boss and Siune saying that she was planning to disband the guild as well were omitted.
The scene with Rika and Keiko was not part of the novel.
In the novel, Kazuto was not working on his probe while waiting for Asuna.
In the novel, the nurses carefully validated Asuna's identity before informing doctor Kurahashi about her.
In the novel, Asuna was directed to look for Kurahashi on the 4th floor, instead of being asked to wait on the same floor.
The mention of how Yuuki's mother's religion and her father helped her overcome her initial crisis was omitted.
The fact that Yuuki did well at school while her schoolmates did not know about her illness and that her condition worsened after rumours of her illness spread and some of her classmates started discriminating her, forcing her to change schools, was omitted.
In the novel, Asuna recalled Kirito saying that Yuuki had truly become a resident of the virtual world, instead of her being a product of the FullDive environment.
In the novel, the Medicuboid displayed the words "User Talking", instead of just "Talking".
Errors
[
]
Asuna's meeting with Siune should have taken place two days before Asuna met with Yuuki at the hospital while Asuna's meeting with Kazuto should have taken place the day before the meeting with Yuuki, instead of the same day.
As Asuna is leaving for school, she can be seen wearing a heavy brown jacket. When she watches her parents eating, the jacket is missing.
[

]