| | |
| --- | --- |
| | Spoiler Alert: This article or section contains details about plotlines not covered in the anime. Do not proceed unless you wish to be spoiled. |
Unital Ring II (ユナイタル・リングII, Yunaitaru Ringu II?) is the 23rd book in the Sword Art Online light novel series, published on December 10, 2019. It is the second volume in the Unital Ring Arc.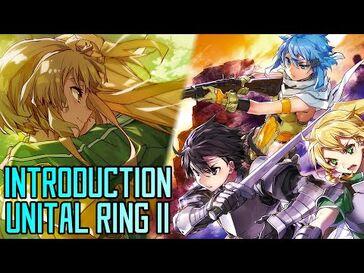 Preview
[
]
Show/Hide spoiler
Around the time Kirito, Asuna, and Alice had their accounts forcibly converted to the mysterious VRMMO game named《Unital Ring》. Sinon was also summoned to the exact same world.
"To think that I, of all people, would be driven into a corner like this......"
Driven into a predicament — lacking her friends, her equipment, and barely having any 《Thirst Points》 left — as a result of multiple mistakes, Sinon takes on a boss monster, her life on the line.
Meanwhile, Kirito and co divide their forces into a group for protecting their home, and a search party for Sinon. Yet, ahead of them lie a disastrous natural phenomenon, a powerful monster, and an assailant who is after Kirito and co――
Chapters
[
]
Chapter 1
[
]
Chapter 2
[
]
Chapter 3
[
]
Chapter 4
[
]
Chapter 5
[
]
Chapter 6
[
]
Chapter 7
[
]
Chapter 8
[
]
Chapter 9
[
]
Chapter 10
[
]
Gallery
[
]
References
[
]
[

]