| | |
| --- | --- |
| | Spoiler Alert: This article or section contains details about plotlines not covered in the anime. Do not proceed unless you wish to be spoiled. |
The Silica Edition (シリカ・エディション, Shirika Edishon?) is a self-published (doujin), Silica-themed bonus short story collection written by Kunori Fumio (Kawahara Reki) and drawn by Kurusu Tatsuya (ponz.info).[2] It was released on November 18, 2012[1][3] during COMITIA 102.[1]
This publication consists of two side stories:
A Spot of Sunshine in the Winter (

冬の陽だまり

,

Fuyu no Hidamari

?

) is a side story about Silica meeting with Kirito in ALfheim Online (ALO) on New Year's Eve.
The Final Promise (

最後の約束

,

Saigo no Yakusoku

?

) is a short manga-format side-story, which chronicles Silica's final moments in Sword Art Online after the game was cleared by Kirito.
Chapters
[
]
The Final Promise
[
]
At 14:55 on November 7, 2024, Silica was in her home in the city of Floria on the 47th Floor. She was relaxing with Pina as she drank, when Pina began to act strangely. Silica believed that Pina wanted more food, when all of a sudden, an alarm rung out throughout the world. A System Announcement declared that world has entered "Forced Administration Mode", and that the game has been cleared. Silica was confused, knowing that the front lines should only be at the 75th Floor, and wondered if she could really log out.
Silica then realized that logging out would mean she would be forced to abandon Pina. She began to cry, realizing that Pina was trying to warn her of this, saying that she did not want to leave yet, and that this was too fast, before Pina "dies". Silica cried out, as she "did not even get to say goodbye", before she realized that Pina's heart remained. She recalled the words of Kirito, that if the "heart" is left behind, she could revive Pina. She promised to become stronger, and go find Pina once again.
Later Ayano Keiko (Silica) was seen in a hospital room, with her cat, named Pina, on her lap. She asked her cat if she would listen to her stories about a friend that she met in another world, with the same name.
A Spot of Sunshine in the Winter
[
]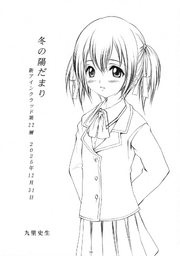 On December 31, 2025, following an argument with her parents due to preferring to stay at home instead of visiting her grandparents for the New Year, Ayano Keiko dived into ALfheim Online. Upon logging in, she entered Asuna and Kirito's log house along with Pina. Despite checking the house for her friends, she did not notice Kirito's presence until Pina flew onto a sleeping Kirito. He woke up and she asked why was he logged in, and he answered that he wanted to prove the Excalibur he just got against Eugene. Kirito then asked Silica why she logged on and she explained that she did not want to go to her grandparent's house because she did not want to talk to her cousins about the Sword Art Online incident as she disliked the way they looked at her when she spoke about it. Silica then says she was scared that their situation might change and one day she may be separated from Kirito and her friends. Silica then takes a deep breath and asked Kirito to a New Year's Eve date at Ikebukuro in the real world and, after some argument, he agreed.
References
[
]
[

]