We're Getting Mutants in the MCU - The Loop
Play Sound
| | |
| --- | --- |
| | Spoiler Alert: This article or section contains details about plotlines not covered in the anime. Do not proceed unless you wish to be spoiled. |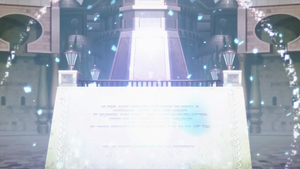 A «Teleport Gate» (転移門, Ten'i-mon?) is a feature that allows fast travel between the floors of Aincrad. It is located at the central plaza of the main settlement on each floor. The Teleport Gate allows free teleportation to any other floor where a gate is activated. This happens after the player(s) who beat the boss of the previous floor's Labyrinth opens it.
In the world of Aincrad, Teleport Gates are the primary means of travel, as physically travelling from floor to floor via Labyrinth mazes is dangerous and time-consuming. The Teleport Gates are also present in New Aincrad and the Teleport Gate in New Aincrad's Town of Beginnings also connects to a gate in Yggdrasil City, allowing players to travel between the World Tree and New Aincrad.[1]
Appearance
[
]
Teleport Gates have an appearance of an arch made of neatly stacked stones. It has no doors or bars. The empty space in the middle of the arch is distorted like a portal.
Using a Gate
[
]
A Teleport Gate can be used by either standing in the middle of an active Teleport Gate or by using a Teleport Crystal, when teleporting from an area outside of a Teleport Gate, and by saying «Teleport (転移, Ten'i?)» along with the name of the destination city.
Gate Activation and Town Opening
[
]
Once a floor boss is defeated, the victorious party can activate the gate of the next floor by merely entering the main settlement and touching the surface of the portal.
This causes a blue light to spread everywhere, marking the floor accessible via teleportation to any other existing floor in Aincrad. The event is known as a «Town Opening».
In the event that the victorious party does not manage to activate the gate after reaching the floor, the Teleport Gate will automatically activate after a two hour period.
The gate can only be activated for use if the name of the destination village is known, however, the players are able to check their map for the name of the village.[2] They are also able to learn the name of the village or town from other players allowing lower level players to access higher floors.
Gallery
[
]
References
[
]
[

]
Aincrad Locations Navigation Bar
Teleport Gate
Floor
Notable locations and landmarks
1
Town of Beginnings, Black Iron Palace, Hidden Dungeon, Monument of Swordsmen[Navbar 1], Monument of Life[Navbar 2], Chamber of Resurrection[Navbar 3], Tolbana, Horunka Village, Medai Village
2
Urbus, Urbus Teleport Gate Plaza, Marome Village, Taran Village
3
Forest of Wavering Mists, Zumfut, Zumfut Teleport Gate Plaza, Dessel
4
Rovia, Rovia Teleport Gate Plaza, Bear Forest, Yofel Castle, Usco Village, Caldera Lake

5

Karluin, Karluin Teleport Gate Plaza, Mananarena, Shiyaya

6

Stachion

, Stachion Teleport Gate Plaza, Suribus, Ararro Town, Castle Galey, Lake Talpha, Cave City of Goskai, Murutsuki Village
7

Lexio

[Navbar 4], Lexio Teleport Gate Plaza, Verdian Prairie, Volupta, Volupta Grand Casino[Navbar 5], Volupta Beach[Navbar 6], Volupta Grand Casino Monster Arena[Navbar 7], Plamio, Skeleton Prairie,[Navbar 8] Forest of the Shaky Boulders, Halin Arboreal Palace[Navbar 9], Ant-Crossing Ravine, Tribra Village
8
Frieven Village, Frieven Teleport Gate Plaza
9
Dark Elf Queen's Castle[Navbar 10]
10
Thousand Snake Castle[Navbar 11]
11
Taft, Taft Teleport Gate
19
Ralberg, Ralberg Teleport Gate, Hill of the Cross, Griselda's Tomb
20
Sunshine Forest
22
Coral Village, Coral Teleport Gate Plaza, Forest House K4, Lake Outside Coral Village
24
Panareze, Panareze Teleport Gate Plaza
25
Giltstein, Giltstein Teleport Gate Plaza, Former location of the Knights of Blood Headquarters
27
Ronbaru Town, Ronbaru Teleport Gate
28
Wolf Plains
35
Forest of Wandering, Mishe, Mishe Teleport Gate Plaza
39
Nolfret, Nolfret Teleport Gate Plaza, Former location of the Knights of Blood Headquarters
40
Jaileum, Jaileum Teleport Gate Plaza
46
Ant Hill
47
Floria, Floria Gate Plaza, Hill of Memories, Forest of Giant Flowers
48
Lindarth, Lindarth Teleport Gate Plaza
49
Myujen, Myujen Teleport Gate Plaza
50
Algade, Algade Teleport Gate Plaza
55
Granzam, Granzam Teleport Gate Plaza, Knights of Blood Headquarters, West Mountain
56
Pani, Divine Dragon Alliance Headquarters
57
Marten, Marten Teleport Gate Plaza
59
Danac, Danac Teleport Gate Plaza
61
Selmburg, Selmburg Teleport Gate Plaza
65
Old Castle Labyrinth
66
Old Castle Labyrinth
72
Ozmalt, Ozmalt Teleport Gate Plaza, Agarla Village
74
Kamdet, Kamdet Teleport Gate Plaza
75
Collinia, Collinia Teleport Gate Plaza
100
Ruby Palace

↑

Only in New ALO

↑

Only in the SAO official service

↑

Only in the SAO Beta

↑

Progressive Volume 7, Rhapsody of a Red Blaze, Part 1

↑

Progressive Volume 7, Rhapsody of a Red Blaze, Part 3

↑

Progressive Volume 7, Rhapsody of a Red Blaze, Part 2

↑

Progressive Volume 7, Rhapsody of a Red Blaze, Part 4

↑

Progressive Volume 7, Rhapsody of a Red Blaze, Part 6

↑

Progressive Volume 7, Rhapsody of a Red Blaze, Part 9

↑ According to Kizmel in Progressive Volume 3, Barcarolle of Froth, Part 7
↑ According to Kirito in Progressive Volume 1, Aria of a Starless Night, Part 14