Introduction
Edit
Hello guys. How are you? I'm Ethrundr, a wandering contributors who wanders from one wikia to other wikia that interest me. Currently, I'm appointed as this wikia's Rollbacker and Chat Moderator, along with Atlhetiger as the Chairwoman, Gsimenas as the Third-in-Command, Insanemater and MyProjectAlicization.
I also one of the senior editors that still active for this wikia. In the Chat Moderator's Tree of Power, I'm acting as the Head of Rule Enforcement, with duty to create, maintain and enforce the Chat Rule, as well as the Second-in-Command and Temporary Chairman, directly under Athletiger. 
My current project then are as listed below:
Kancolle Wikia, as an active technical editor.
Attending as Technical Editor, to standardize and tidying up all codes used in the wikia.
Love Live! Wikia, as an retired senior editor, Former Head Administrator and Former Chief Bureaucrat.
Currently only come once a while to check the wikia.
Clockwork Planet Wikia, as an seasonal editor,.
Currently comes occassionaly to this wiki, and add informations as per needed.

All my pending/suspended projects:
Sword Art Online Wikia, as an active senior editor and Acting Head Chat Moderator.
Currently active as the Head of Rule Enforcement in Chat to enforce the newly re-established Chat Rule.
Seirei Tsukai no Blade Dance Wikia, as an active editor and Chat Moderator.
Attending as Recent Activity camper and occasional editor.

Dropped/Finished Project:

Non-Wikia Memberships:

If you need to contact me about this wikia, please contact me on my local usertalk page. Any other message, please post it directly to my private IRC Channel by joining #Ethrundr channel, on the Freenode IRC Server. I'll help you as long as I can.
Happy Editing,
Ethrundr (Local Talkpage), at your service!
Source of this profile page is stored as template in Community Wikia Template Page.
Ongoing Projects: Character Image Song
Edit
Project Progress: 64.82%
Progress marks:
I'll put my plan on the "Plan" section below.
Please contact me before adding the "Still-Red" pages.
I prioritized on Romaji lyrics only. Anyone with kanji and english are free to add them.
Project Members/Helpers:
Song Lists:
Update Notes
Edit
↑ If this occurs on the Audio row, means either the Instrumental or Off Vocal version of the song is not posted yet.
↑ If this occurs on the Lyric row (any of them), means only part of the lyric is posted (not full version yet.)
↑

This page project is suspended, since the audio file source is corrupted.
Other Stuffs
Edit
Wiki Skills
Edit
SKILL SLOTS
Extreme Insomnia
Vandals Hunter
Spam Buster
Sleeping Stalker LV.3
Multiprocessing Brain
Guideline Author
Insane Workawikiholic
Wiki-Hopper
Randomness
Anime Lolicon
Chat Everywhere
Nickname Master
Addicted Chatter
Coding
Random Things Thrower
Edit Badges
Edit
Picture Badges
Edit
Daily Edit Badges
Edit
Vandalism, Jokes and Edits
Edit
We know that there lot of people who hate this series, as well as the number of fans and lover, but if you haters want to make fun of us, please re-consider! We won't keep silent even for one bit of vandalism happened on this wikia.
For those vandals, this is my motto: 
"DO EVEN ONE BIT OF VANDALISM, AND YOU'LL GONNA BE FORCED TO GET OUT FROM HERE!"
Also, for jokes, please consider that your jokes is: only happen on someone's message wall (if individual) or forum page or chat room (if communal), and have no ill-intention anywhere on it (implicitly or explicitly). No jokes will be accepted if performed by creating useless page, uploading useless image, offended someone (especially when that "someone" is an active officer here) or ruined up any previously-existing pages. Do any of them, even just one bit, you'll be considered as ill-intended vandals, and will be reccommended to got full ban (1 year's worth of ban) from both chat and wikia at instant. Please remember this carefully.
Personally, I love everyone who edit and contribute in wikia, any wikia (not specific to just this wikia), but my love will change into hatred if you do harm to us.
Ethrundr
Chat Moderator, Rollbacker, Spam-Buster, Vandals-Hunter and Active Senior Editor of Sword Art Online Wiki.
Naming in Wikia
Edit
More detailed list can be found on: Official Naming List and Editor Common Mistakes
Romaji Official Naming
Edit
Here are provided the list of official naming on the characters of Sword Art Online anime. I also provided the several possibilities of mistakes on their names:
| No | Kanji | Romaji | Official Name | Possible Mistakes |
| --- | --- | --- | --- | --- |
| 1 | キリト | Kirito | Kirito | n/a |
| 2 | アスナ | Asuna | Asuna | n/a |
| 3 | クライン | Kurain | Klein | Cline |
| 4 | エギル | Egiru | Agil | Egil |
| 5 | リズベット | Rizubetto | Lisbeth | Lizbeth, Lisbet, Lizbet, Liz |
| 6 | シリカ | Sirika | Silica | Scilica, Sirika* |
| 7 | クラディール | Kuradiru | Kuradeel | Kuradil, Cradil |
| 8 | リーファ | Rīfa | Leafa | Lyfa |
| 9 | ヒースクリフ | Hīsukurifu | Heathcliff | n/a |
| 10 | カインズ | Kainzu | Caynz | Kains |
Important Notes
Edit
Note for "Caynz": NEVER mistype his name into "Kains", since both name are definitely different character, as stated on the novel.\
Names marked with asteriks (*) indicates that the name is the original romanization of the kanji form, but not used as the official naming for the character and proven to be a wrong naming.
The Romanization of the character name (Romaji form) is NOT their official name used, and tend to be a 'wrong' version for the character naming. The official name is listed under "Official Name" column.
Non-Romaji Official Naming
Edit
There are some characters, which used the "Official Naming" as their official name, rather than using the  romanization of their Kanji like most characters. For characters which have this kind of naming, both name are correct  and official. Here are the list of this "bi-naming" characters:
| No | Kanji | Official Romaji | Official Naming Used |
| --- | --- | --- | --- |
| 1 | シンカー | Shinka | Thinker |
| 2 | ユリエール | Yurieru | Yulier |
| 3 | ヨルコ | Yoruko | Yolko |
Fact about official naming: Character with dual names like this case, usually have their official name in English.
Trivial Naming
Edit
Name listed down here are name that the official one not yet known, but there already some variations on the naming:
| No | Kanji | Naming Used in Wikia | Known Variations |
| --- | --- | --- | --- |
| 1 | ゴドフリー | Godfree | Godfrey |
| 2 | | Sylvain | Sylvein, Swilvane |
| 3 | | Aarun | Arun, Alne |
| 4 | | G-Takusu | Jiitakusu, Jitakusu, Jitax |
| 5 | | Grimlock | Grimrock |
| 6 | | Cobert | Cobalt, Covatz, Corbert, Colbalt, Colbert |

For all editors, please consider to do some research on editing the names which still have no official naming yet. For those which already have known official naming, please use it in every page you edit.
Merry Christmas
Edit
Merry Christmas everyone, and I hope all of you still remembered her: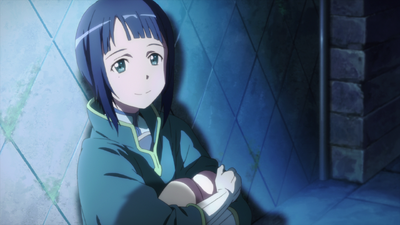 I'd like to wish a very merry christmas for her up there :)
Community content is available under
CC-BY-SA
unless otherwise noted.