| | |
| --- | --- |
| | Spoiler Alert: This article or section contains details about plotlines not covered in the anime. Do not proceed unless you wish to be spoiled. |
This article is missing some information.
You can help by adopting it and adding the missing information.
Missing Information: Apperance, personality
This article is open for adoption.
Volo Levantein (ウォロ・リーバンテイン, Uoro Rībantein?) is a supporting character in the Alicization Arc. He was the head elite swordsman-in-training at the North Centoria Imperial Master Sword Academy during Eugeo and Kirito's first year at the academy. He graduated as the second-ranked swordsman from the academy after being defeated by Sortiliena Serlut during the graduation tournament and then participated in the Norlangarth North Empire Swordsmanship Tournament, where he was defeated by Eldrie Woolsburg.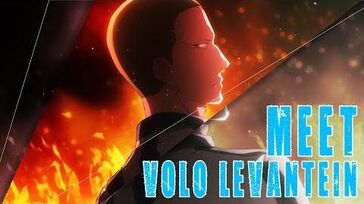 Background
[
]
Volo was born into a second-class noble family and, by tradition, was trained in the Norlangarth sword style. During his senior year, he secured his position as head elite swordsman-in-training three times consecutively, each time winning against Sortiliena Serlut at the last second by using a high level Sword Skill from the Norlangarth style.
Chronology
[
]
Volo discovered Kirito practicing with his new sword, watching as he performed up to four-hit sword skills. He waited for the right moment and when Kirito lost control and stood near him for some dirt to land on his uniform. Using this as a pretext, he took Kirito to a punishment decided by himself, which was to spar against the swordsman. His real intentions, however, were to defeat Kirito to strengthen his own style. In the fight, he started with his strongest skill, but it was stopped by Kirito's Vertical Square. They tried to continue the intense fight, but it was stopped by Azurica, and thus ended in a draw. Volo thus informed Kirito that his punishment had ended and retired from the arena. In the last tournament before the graduation ceremony, he lost against Sortiliena.
Volo later entered the Empire Swordsmanship Tournament but lost to Eldrie Woolsburg in a battle that resulted in the bones of his left shoulder being smashed to pieces.
Skills
[
]
Norlangarth Sword Style
[
]
As part of his sword style, Volo's swordsmanship becomes stronger when he connects a direct hit and spills his opponent's blood. His sword is empowered by his ancestors and the dedication he applied on training.
High Level Norlangarth Style
[
]
Gallery
[
]
References
[
]
[

]